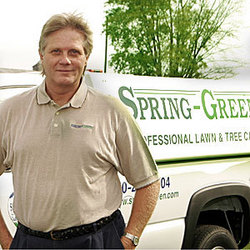 Plainfield, IL (PRWEB) March 31, 2009
Spring-Green released two new podcast episodes this week to give homeowners useful tips on keeping pests like spiders and earwigs outside and lawns free of disease.
Spring rain showers can mean more nuisance pests, such as ants, spiders, earwigs and other insects seeking indoor shelter. In the podcast episode Perimeter Pest Control, Spring-Green's Certified Turfgrass and Ornamental Landscape professional Harold Enger tells us how perimeter control can stop these pests from getting inside homes.
In this latest installment to the popular Lawn Talk podcast series, Enger discusses a relatively new treatment that works around a home's perimeter to prevent pesky insects from invading homes.
Just as a lawn care professional can help control perimeter pests, Enger discusses how instrumental it is for homeowners to seek help when diagnosing lawn diseases.
In the podcast episode, Disease Control Treatments, Enger examines the three factors that contribute to the development of grass diseases.
"You need the host plant which is your grass, your tree or shrub, and then you need a pathogen, which is the disease-causing agent - bacteria, fungus, micro plasma - and those are already naturally occurring. But the third thing that you need is the environment - hot and dry, hot and humid, cool and dry, cool and cloudy and warm. It could be including too much water, too little water. It could include grass that was left too long, too short. There are many things involved with the environment."
To find out how environmental conditions may contribute to lawn diseases and how to prevent perimeter pests, visit Lawn Talk Podcasts to listen to the complete episodes.
About Spring-Green
Founded in Naperville, Illinois, in January 1977, Spring-Green has been beautifying neighborhood lawns for over 32 years. Today, the Spring-Green organization provides lawn fertilization, weed control, tree and shrub care and other yard services to over 7,500 neighborhood communities around the country. Visit Spring-Green.com to find your Spring-Green neighborhood lawn care professional. Call today and receive a free lawn care service quote.
# # #