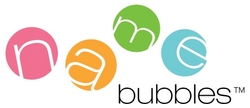 Saratoga Springs, NY (PRWEB) March 31, 2009
Name Bubbles, a leader in name labels, school uniforms labels, and waterproof labels, has just expanded their laundry safe, press and stick labels for shoes. Name Bubbles shoe labels or "Bubble Toes" are made from the same durable vinyl as the Name Bubbles waterproof labels. Bubble Toes adhere or stick to the inside soles of shoes and include a strong, clear vinyl overlay that provides a hard-wearing cover for active feet in all conditions, including water shoes, cleats, ballet slippers, sneakers, or crocs.
Found online in the Laundry Safe Waterproof Labels tab at http://www.namebubbles.com, Bubble Toes are fun and functional, providing parents and care givers, with a way to keep track of their child's shoes at daycare, school, camp, and after school activities.
Bubble Toes have also been included in several Name Bubbles money saving label packs. These packs were developed for the specific needs of families, such as daycare labels for new moms, camp labels that stay put when exposed to the elements, school labels for uniforms and supplies, and sport labels for equipment and sporting gear. Name Bubbles provides 8 different color palettes for all of the Bubble Toes sold in label books and in the label packs. All Name Bubbles personalized labels are made with a durable vinyl infused with a non-toxic, eco-friendly ink. The dishwasher and laundry safe labels will with stand temperatures of -60° to 220°Fahrenheit.
"Bubble Toes are a simple solution for labeling your child's shoes. They are cute, reliable, and easy. No one wants to use a sharpie on a new pair of shoes and it doesn't always stay on. Our shoe labels were designed as little feet to help your child learn which shoe goes on which foot and the protective covers are provided for extra durability. We want to help parents keep those shoes coming home until they are outgrown, just stick on some Bubble Toes before they go out the door." says Michelle Brandriss, Owner of Name Bubbles.
For additional information on Name Bubbles, our waterproof labels for kids, or for a sample of our personalized labels, please contact Michelle Brandriss or visit http://www.namebubbles.com
About Name Bubbles
Located in upstate New York, Name Bubbles is a baby label and kids label company specializing in waterproof press and stick labels. Name Bubbles waterproof labels are dishwasher, microwave, and laundry safe. Custom packs are available for camp labels, school labels, and daycare labels. Fun and functional, Name Bubbles are a great choice for baby bottle labels, school uniform labels, and personalized name labels. http://www.namebubbles.com
Contact:
Michelle Brandriss, Owner and Founder
Name Bubbles
866-797-6263
http://www.namebubbles.com
###