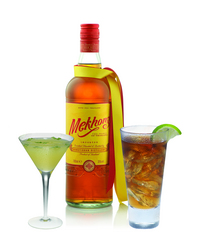 the most exciting exotic spirit to come along in awhile
Los Angeles, CA (PRWEB) March 30, 2009
Thai New Year celebrations and festivals are growing in popularity across the United States, notably the 6th Annual Songkran Festival in the "Thai Town" section of Los Angeles on Sunday, April 5, which draws some quarter of a million people. Other large U.S. Songkran events are held in Queens, N.Y., Chicago, Minneapolis, Washington, D.C./Northern Virginia and Miami. In Thailand and other Southeast Asia nations, Songkran is a three-day celebration held on April 13 - 15.
For the first time in the United States Songkran can be celebrated with Mekhong The Spirit of Thailand, imported by New York City-based International Beverage USA. Since 1941 Mekhong has been enjoyed in Thailand and is known as the official spirit of country. Including its international award-winning Chang Beer from Thailand, introduced in the U.S. two years ago, International Beverage USA is pleased to make these homeland favorites readily available in the U.S. to millions of Thai expatriates and Americans during Songkran festivities and every day in America.
While many Thai people love Mekhong straight or served neat, the golden spirit has quickly become a favorite among a group of elite bar chefs and mixologists in the U.S. and is described by many as "the most exciting exotic spirit to come along in awhile" for mixing in cocktails.
Mekhong-based cocktails, for example, are on drink menus and served in many of New York City's hottest and trendiest restaurants, bars and clubs known for their signature cocktails. Mekhong will be one of the featured spirits at the world's premier bar chef mixology event in New Orleans this July called Tales of the Cocktail.
One of the most popular Mekhong cocktails is the Sabai Sabai, the Thai welcome drink, which is perfect to officially toast Songkran, and to drink year 'round. Sabai Sabai cocktail calls for 1.5 shots of Mekhong, 1.5 shots fresh squeezed lemon juice, .75 shot simple sugar syrup, a finger pinch of sweet Thai basil and club soda. Pour Mekhong and the rest of the ingredients except club soda into a mixing glass. Add ice and shake vigorously for 7 - 8 seconds. Strain into a chilled martini-cocktail glass. Top off with club soda.
New to the U.S., but a million case-seller in Asia, Mekhong is a unique, award-winning premium blended and distilled Thai spirit made mostly from sugar cane and rice and infused with a special blend of indigenous Thai herbs and spices. The highly secret Mekhong recipe delivers a distinctively rounder texture, delightful aroma and a smooth and more balanced taste than most golden spirits.
At 35% alcohol by volume, the product's smooth mixability makes Mekhong an ideal spirit for fascinating and flavorful cocktails. Mekhong is a complex and well balanced blended and distilled spirit with a golden, dark amber and reddish copper appearance. Its flavor and aroma is both spicy and sweet with hints of ginger, honey, toffee, vanilla, floral, herbs and citrus.
Songkran is a Thai word for "move" or "change place" as it is the day when the sun changes its position in the zodiac. It is also known as the "Water Festival" as Thais believe that water will wash away bad luck. The Songkran tradition is recognized as a valuable custom for Thai society. Songkran festivals include a variety of Thai culture events and activities, ranging from Thai food and drink tastings and demonstrations, cultural parades, Thai boxing, water blessing ceremonies and water-based events, beer gardens, live music and dance and beauty contests.
Mekhong comes in a unique 750-ml international bottle in which a motif of traditional Thai swan boat iconography of the Mekhong River is used in a subtle and contemporary manner. A colorful red and gold ribbon is tied around the neck of each bottle. The ribbons are a symbol of good luck and are representative of the ones boaters tie around their vessels to ward off evil spirits as they travel the Mekhong River. A 750-ml bottle of Mekhong retails for $22.99.
For more information about Mekhong, contact John Lennon, president of International Beverage USA, 60 East 42nd Street, Suite 2134, New York, NY 10165, tel. 646-896-3807, and visit the Web site http://www.thespiritofthailand.com to learn more about this authentic Thai imported spirit.
###