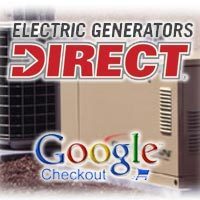 But most customers would rather have cash than miles.
Bolingbrook, IL (PRWEB) March 31, 2009
ElectricGeneratorsDirect.com announced today that it is now offering discounts on all Google Checkout orders.
"Yes, frequent flyer miles are tantalizing," said Jon Hoch, founder and CEO of Power Equipment Direct, the parent company of ElectricGeneratorsDirect.com. "But most customers would rather have cash than miles."
According to Hoch, most shoppers don't realize that merchants already increase their prices by at least 2% in order to cover the credit card fees.
So instead of giving 2% of the sale to the credit card companies, ElectricGeneratorsDirect.com is actually passing the savings onto the consumer if they place their orders through Google Checkout instead.
"The discount can really add up, especially on larger purchases," said Hoch.
For example, customers can instantly save $73 by simply using Google Checkout to order a $3,689.00 standby generator.
Customers simply checkout using Google Checkout with the coupon code "google" to instantly save 2% on their lawn mower order.
The coupons are only valid if the customer uses Google Checkout. The coupons are not available for standard online orders.
Hurry, the Google Checkout coupon code expires May 4, 2009.
Power Equipment Direct operates nine niche online superstores. In addition to ElectricGeneratorsDirect.com, the Bolingbrook, IL-based company operates AirCompressorsDirect.com, PressureWashersDirect.com, SnowBlowersDirect.com, MowersDirect.com, WaterPumpsDirect.com, SumpPumpsDirect.com, ChainSawsDirect.com and LogSplittersDirect.com
###