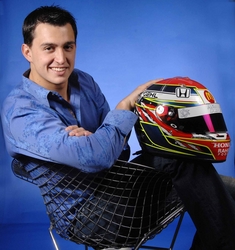 We are excited to be working with Graham at the early stages in his IndyCar racing career
Kansas City, KS (PRWEB) March 31, 2009
Clayman Promotional Group announced today that it will be the exclusive distributor of Graham Rahal branded merchandise on the star race car driver's personal website. Just in time for the 2009 season, IndyCar race fans can visit the online store at http://www.GrahamRahal.com.
The site will feature the latest designs of men's and women's apparel as well as Graham Rahal branded articles such as hats, backpacks, drinkware, Sharpie® pens with Graham's signature and logo, multimedia skins for mp3 players and mobile phones and other unique items.
"We are excited to be working with Graham at the early stages in his IndyCar racing career," said Gary Tribolet, National Account Executive for Clayman Promotional Group. "His historic win in his rookie season demonstrates his dedication to his craft and we look forward to providing his fans with merchandise that supports his brand of winning and style."
"Clayman Promotional Group's online merchandise program is unique and offers fans a variety of products. I've personally been involved in the overall design process and it's been a lot of fun. With the ability to see inventory, due dates, and multiple views of the product, they have provided my fans a great place to shop." said Graham Rahal, race-winning IndyCar Driver.
As one of North America's leading promotional and fulfillment companies, Clayman Promotional Group will draw upon 40-plus years of experience to keep the selection interesting, in-stock, and into the customer's hands. Under the terms of the agreement, Clayman Promotional Group obtains the rights to market, promote, distribute and sell Graham Rahal-branded merchandise and authentic race-worn equipment on http://www.GrahamRahal.com. The agreement demonstrates Graham Rahal's desire to offer fans the finest quality and selection of products and his confidence in Clayman Promotional Group to provide excellent customer service.
Visit http://www.GrahamRahal.com to view Graham Rahal's official online store.
About Graham Rahal:
Graham Rahal is a second generation racing driver - - the son of 3-time IndyCar Champion, 1986 Indianapolis 500 winner, and current professional race team owner Bobby Rahal. Graham has continued the family's racing success and in 2008 became the youngest winner in history of a major open-wheel race with his win at St. Petersburg Grand Prix. He is also the youngest driver to finish on the podium in Champ Car, the youngest driver to win a Formula Atlantic race, and the youngest driver to win a Star Mazda Series race. Graham currently drives for the storied Newman Haas Lanigan racing team in the IRL IndyCar Series. Form more information, please visit http://www.GrahamRahal.com.
About Clayman Promotional Group:
Since 1968, Clayman Promotional Group has helped clients deliver their messages with customized promotional products. Ranked among the top 5% in the promotional products industry, Clayman Promotional Group serves Fortune 500 companies, Race Car Drivers, medium sized business to celebrities with preferred pricing, combined with excellent client service, creativity, and the resources to find virtually anything. The Company can customize a single item or build and operate an entire global company store. In 2008, Clayman Promotional Group moved its headquarters to its new modern, efficient facility at 3200 Merriam Lane, Kansas City, KS. 66106 which host a 40,000 square foot warehouse for fulfillment. For more information, visit http://www.claymanpromo.com
###