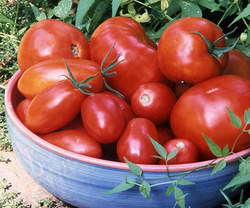 From our readers' feedback, we know that the Plant Encyclopedia is one of the most important features of our updated Gardening channel. In particular, gardeners love being able to get specific information about plants for their growing conditions
Des Moines, IA (PRWEB) March 31, 2009
Since March is the official start of the spring gardening season, Better Homes and Gardens magazine has completely upgraded its online Plant Encyclopedia to give readers an easy way to search for information on specific plants for their garden and climate. Each listing in this Plant Dictionary has customized links to garden plans and slide shows.
"From our readers' feedback, we know that the Plant Encyclopedia is one of the most important features of our updated Gardening channel. In particular, gardeners love being able to get specific information about plants for their growing conditions," Justin W. Hancock, Senior Garden Editor of BHG.com said. "We put a lot of effort into making it as comprehensive as possible -- it literally has details on thousands of plants and we're adding more plants every week."
In addition to being able to search by plant type, such as vegetables, fruits, perennial flowers, houseplants, and other categories, the Plant Encyclopedia breaks down its extensive library by common plant names and scientific plant names. That makes it the perfect online tool to help gardeners plan, create, and enjoy the garden of their dreams.
To celebrate the launch of the recently updated BHG.com and Plant Encyclopedia, Better Homes and Gardens magazine is featuring the Spring Awakening Sweepstakes, which runs until May 31, 2009. One entrant will receive a new Toyota Prius. To enter the contest, visit: "Spring Awakening" online sweepstakes.
About BHG.com
Developed by the experts at Better Homes and Gardens magazine as an interactive companion to the print edition, BHG.com is the premiere home and family site on the Web. BHG.com is for people interested in turning home, cooking, and gardening inspiration into action.
BHG.com is focused on decorating, building and remodeling, crafts, entertaining, cooking, and gardening. It also has extensive information for women and families. In addition to providing useful tools and advice, BHG.com's trusted experts keep visitors updated on the latest developments and trends around home and garden. BHG.com was designed with real people in mind. It has easy-to-use interactive tools, clear visuals, step-by-step instructions, and money-saving suggestions. It makes life easier and more enjoyable.
###