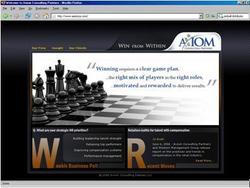 Axiom is delighted to be releasing this important piece of thought leadership by our colleagues Traci McCready and Chris Hatcher in workspan magazine
Chicago, IL (PRWEB) March 31, 2009
Axiom Consulting Partners LLC announced today that WorldatWork has published its article titled 'How to Align Career Development and Succession Planning' in its March edition of workspan magazine.
"Axiom is delighted to be releasing this important piece of thought leadership by our colleagues Traci McCready and Chris Hatcher in workspan magazine," said Steve Strelsin, President – Axiom Consulting Partners. "WorldatWork is the preeminent organization of total rewards practitioners and we are especially pleased that Axiom has been asked to share our approach for aligning career development and succession planning as some of the key elements of the rewards mix."
Total Rewards are all of the tools available to the employer that may be used to attract, motivate and retain employees. Total Rewards include everything the employee perceives to be of value resulting from the employment relationship, which include the following five elements: 1) compensation, 2) benefits, 3) career, 4) culture and 5) work environment.
'How to Align Career Development and Succession Planning' is available for download at Axiom's website.
About Axiom Consulting Partners
Axiom Consulting Partners is a management consulting firm that specializes in hardwiring people to business strategy to deliver improved performance and results. Axiom asks the right questions to uncover and remove disconnects that commonly exist among the boardroom, middle management and front line employees. Axiom's Partners generate insights and develop recommendations for their clients that have a quantifiable business impact.
About WorldatWork
WorldatWork is the world's leading not-for-profit professional association dedicated to knowledge leadership in total rewards, compensation, benefits, and work-life. Founded in 1955, WorldatWork focuses on human resources disciplines associated with attracting, motivating and retaining employees. Besides serving as the membership association of the professions, the WorldatWork family of organizations provides education, certification, publications, knowledge resources, surveys, conferences, research and networking.
Media Contact:
John Whelan
Director, Market Development
161 N. Clark Street, Suite 4700
Chicago, IL 60601
(312) 523-2090
This press release was distributed through eMediawire by Human Resources Marketer (HR Marketer: http://www.HRmarketer.com) on behalf of the company listed above.
###