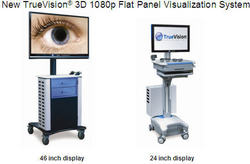 The addition of 3D flat panels makes TrueVision easier to use and significantly reduces their footprint in the OR.
San Francisco, CA (PRWEB) March 31, 2009
TrueVision® Systems, the leader in digital 3D visualization for microsurgery, announced its new 3D 1080p flat panel product configurations today at the American Society of Cataract and Refractive Surgery. For the first time, operating rooms and exam rooms will have 3D 1080p flat panel LCDs to display live and recorded content of the surgical view from a microscope or slit lamp.
Different configurations include wall mounted and portable ergonomic cart solutions with a selection of high quality LCD 3D 1080p panels ranging from 24 to 46 inches. One or more displays can be mounted on the wall, from the ceiling, or on a boom arm for operating rooms, exam rooms, and offices.
Santa Barbara based TrueVision Systems will be presenting the flat panel products in collaboration with leading surgeons showing interesting surgical cases and advanced techniques at the ASCRS exhibition at Moscone Center in Booth #3112 from April 4 - 7, 2009. TrueVision® has an immediate impact on improving the ability to communicate microsurgical concepts and procedures for surgeons, patients, and medical device manufacturers.
TrueVision is an intelligent 3D visualization system for microsurgery that enables surgeons to perform or view surgery via a heads-up display instead of looking through the microscope. It features the ability to record, edit and playback 3D 1080p operative content. The 3D video playback enables viewers to see surgery as if they were performing the surgery themselves through the microscope. The system is designed to seamlessly bring patient images and data from the exam room into the OR.
"The digital 3D visualization and guidance platform from TrueVision Systems will revolutionize the way we perform ophthalmic surgery throughout all specialties." said Eric Donnenfeld, MD, FACS. "The addition of 3D flat panels makes TrueVision easier to use and significantly reduces their footprint in the OR."
"Adding these 3D flat panel options to our product line will improve TrueVision's appeal for prospective customers that have been constrained by small operating rooms. 3D flat panels are just another step in the rapid evolution of our platform." said CEO Forrest Fleming.
All systems include the patented TrueVision 3D Image Capture Module that attaches to the surgical microscope or slit lamp, an Image Processing and Recording Unit, and choice of a display from 24 inches to 46 inches on a cart or wall/ceiling mounted. Prices start at $49,900. The company also sells custom 3D Playback Systems for uses outside the operating room. The TrueVision Surgical Vision System is registered with the FDA as a class one medical device.
TrueVision Systems, Inc. is the leader in digital 3D visualization for microsurgery. TrueVision has developed and patented an intelligent, real-time 3D visualization platform for microsurgery. The company is developing a suite of specific 3D surgical guidance applications for the refractive-cataract surgical market that is expected to generate greater consumer satisfaction. TrueVision Systems, Inc. 114 E. Haley Street, Suite L, Santa Barbara, CA 93101, (805) 963-9700, http://www.truevisionsys.com
###