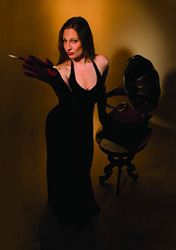 My favorite record I've heard in years. It hasn't left my CD player!
Nashville, TN (PRWEB) March 31, 2009
Nashville's Tori Sparks releases her third album, The Scorpion in the Story, on Glass Mountain Records. A tale in thirteen chapters, The Scorpion in the Story is a concept album, a collection of true vignettes from the road. Each song was written about a real person, in a different city all over the United States, and forms a musical tour diary of Tori's travels in 2008. A map charting her path is included in the album art.
Scorpion also includes bonus track "Le Manege," the French version of the song "Merry Go-Round." Tori's exposure in Europe last year as a result of the wild success of her song "Cold War" on Universal Music France's compilation Country Vol. 2] inspired the bilingual artist to further her ties with her French-speaking fans.
Tori broke out in 2007 with her album Under This Yellow Sun, which was licensed to MTV, Lifetime, and the Oxygen Network and featured on the Paste New Music Sampler # 43 alongside artists such as Elvis Costello. The album was included on the long list of potential Grammy nominees for 2008 in several categories.
Tori's 2009 release features the return of multi-instrumentalist David Henry (R.E.M., Ben Folds, Vienna Teng, Josh Rouse, Widespread Panic, Indigo Girls, Cowboy Junkies) and drummer Steve Bowman (Counting Crows, Third Eye Blind, Luce). Other celebrity musical guests include guitar/banjo/ukelele virtuoso Will Kimbrough, (Rodney Crowell, many more), bassist Viktor Krauss, (Lyle Lovett, Janis Ian, Mindy Smith, Allison Krauss), fiddle/accordion/pedal steel player Fats Kaplin (Mark Knopfler, Kevin Welch), and pianist Barry Walsh (Gretchen Peters, more). The album was produced by Sparks and David Henry.
Preorders of the album are available through Tori's website on April 1st. The first one hundred people to preorder The Scorpion in the Story will receive the deluxe version of the album for the price of the regular edition of the record. The deluxe version includes a limited-edition poster, signed and numbered, and a download card featuring exclusive interviews, previously unreleased bonus tracks, and a music video for the song "Merry Go Round" (featuring the Music City Rollergirls). All preorders after one hundred will have the option to order the deluxe version.
The Scorpion in the Story will be released to the public on June 23rd.
Some early feedback on the album:
"My favorite record I've heard in years. It hasn't left my CD player!"

Bart Herbison, Executive Director of NSAI (Nashville)
"Classic, like an old Lucinda Williams album, but really fresh at the same time. I love this record."

Dawn Kamerling, The Press House (New York)
"A work of art. Tori has really found her voice this time."

Matthew Burgess, Drummer (Amanda Williams, Brandi Carlile, Third Eye Blind) (Seattle)
###