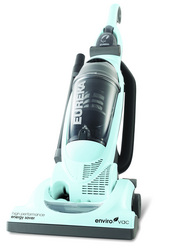 To remove nail polish from a hard surface use borax - stains come up easily, it's non-toxic and no scratching!
Bloomington, IL (PRWEB) April 6, 2009
The "green" movement has swept the nation and changed the cleaning scene along the way. Challenged to rethink their tired cleaning routines, consumers are coming up with their own "greener" cleaning methods. Because of this new trend, vacuum manufacturer Eureka held a contest asking consumers to share their "greener" cleaning tips via its VacuumGreen.com Web site.
"We know our customers care about the environment and realize that making even small changes to their daily cleaning routine can add up to make a real difference," said Jackie Cooper, director of marketing and communications for Eureka.
For 10 weeks, eco-focused consumers submitted their most effective and "green" cleaning tips, from new uses for household items to steps to take before the use of a vacuum, for a chance to win a Eureka envirovac. Out of the nearly 1,800 people who provided tips, 10 won the eco-friendly vacuum to aid their "green" cleaning routines.
The 10 winning eco-friendly cleaning tips are:
Reach for the Cupboard
•"Hot vinegar has been my cleaning secret. It cleans soap scum, windows, extra dirty/soiled laundry, and even our toilet. One thing to be wary of is vinegar that does not say it is made from grain, because it could be made from petroleum products." - Erin Downs of Makanda, Ill.
•"Use a spray bottle filled with white vinegar to disinfect countertops in your kitchen - no need for antibacterial cleansers made with the pesticide triclosan." - Ellen Holder of Overland Park, Kan.
•"After scrubbing down your stainless steel sink, rub on a little bit of olive oil to resist buildup of hard water stains." - Janet Thinger of Tampa, Fla.
"Green" Minds Think Alike
•"Reuse dryer softener sheets to dust TV screens, etc." - Catrina Hare of Memphis, Tenn.
•"Cut up old towels into smaller cleaning towels, and keep a bin or basket of these handy to avoid wasting paper towels for cleaning up spills, washing windows, etc." - Hanna Coate of Port Ludlow, Wash.
Turn to Nature
•"Rather than using harsh chemicals to clean lime and rust deposits, use a pumice stone to remove those stains quickly and easily." - Barbara Burt of Boise, Idaho
•"Use borax to clean toilets - works just fine, is much less expensive and much less toxic (not to mention the package is better for the environment)." - Suzanne Kornmaier of Riverside, Calif.
•"To remove nail polish from a hard surface use borax - stains come up easily, it's non-toxic and no scratching!" - Elizabeth Dehart of West Jordan, Utah
An Oldie but Goodie
•"Using the great outdoors to hang laundry the old fashioned way has cut my electric bill by $100 per month!" - Kara Abbott of Tallahassee, Fla.
•"Always dust before you vacuum." - Patty Boutin of Rochester, N.H.
"Like our customers, Eureka cares about the environment and, while vacuuming doesn't inherently use that much energy, reducing consumption by making small changes is a simple way to live 'greener,'" said Cooper. "The envirovac helps reduce electricity use, without sacrificing power or performance."
The envirovac is an eco-friendlier, full-sized upright that reduces energy consumption, comes with a reusable, washable HEPA filter to lessen waste and utilizes 100 percent recycled cardboard packaging.
For additional "greener" cleaning ideas and other resources, visit http://www.vacuumgreen.com/. Eureka is proud to be part of the Electrolux worldwide organization, which has a demonstrated history of commitment to environmentally, socially and ethically responsible business practices. Visit http://www.electrolux.com for more information.
Eureka's envirovac retails for $72.22 at Walmart and on http://www.walmart.com. For more information about Eureka products or Eureka's efforts around the environment, consumers can visit http://www.eureka.com.
*A typical full-size upright uses 12 amps; envirovac™ uses 8 amps.
About Electrolux Home Care Products, Inc.
Electrolux Home Care Products, Inc. (EHCP) leverages consumer driven insight to manufacture and market innovative floor care products under its well-known Eureka and Electrolux consumer brands. The company also sells high-quality commercial products under its Sanitaire brand name and central vacuums made by its Electrolux Central Vacuum Systems division (formerly known as Beam Industries). EHCP is based in Bloomington, Ill., and is a part of The Electrolux Group. Visit http://www.electroluxusa.com, http://www.eureka.com , http://www.sanitairevac.com or http://www.beamvac.com for more information.
###