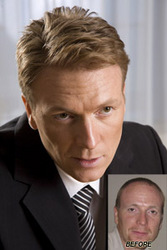 It is important to note that despite an economic recession worldwide, the demand for hair transplantation continues to remain strong because men want to improve their image and appearance for better professional and personal prospects during times of transition and change
Pittsburgh, PA (PRWEB) April 3, 2009
In its continued effort to help men and women from the United Kingdom (UK) and Europe who are thinning and balding, Nu/Hart Hair Clinics, a world leader in hair restoration, has opened its London center.
Conveniently located in the centre of London at The Media Centre, 19 Bolsover Street, Nu/Hart offers consultations and hair transplant sessions in London itself without having to fly to another country or city.
Nu/Hart London's leading physician is Dr. Andrew Kawecki. Fully registered with the GMC (General Medical Council) in England and certified by Nu/Hart to perform hair transplant procedures in the United Kingdom, Dr. Kawecki has extensive training in hair transplant surgery. Nu/Hart London also has a medical support team of talented nurses, medical consultants and hair transplant technicians to serve clients.
Mr. Salvar Bjornsson is the General Manager for Nu/Hart London and is responsible for overseeing Nu/Hart's operations and development in the UK, Spain, Portugal, Poland, and other European markets.
Nu/Hart operates ten hair transplant centers in the U.S. and overseas including Pittsburgh; New York; Chicago; Atlanta; San Juan, Puerto Rico; Dubai, United Arab Emirates; Manila, Philippines; Hong Kong; Warsaw, Poland; and now London, England.
According to Kathy Smith, President of Nu/Hart, "London puts Nu/Hart on the European map and would serve as the organization's epicenter for our European operations."
Nu/Hart has been in existence for over 18 years and its 16 physicians have performed over 30,000 hair restoration procedures on clients from nearly 50 countries excellent results.
In addition to a multi-lingual web site, Nu/Hart has multi-lingual physicians and staff who speak English, Spanish, Cantonese, Mandarin, Arabic, Persian, Polish, Tagalog, Russian, Portuguese, Hindi, Urdu, Hungarian, and other foreign languages.
According to Mac Fadra, a principal of Cosmetic Medical Partners and a veteran in the cosmetic medical management and elective health care field who is also a Director of Nu/Hart, "Nu/Hart's presence in the economic and financial capital of Europe is an important step in the organization's growth trajectory and simultaneously fulfills an important objective to serve hair transplant clients throughout Europe." "It is important to note that despite an economic recession worldwide, the demand for hair transplantation continues to remain strong because men want to improve their image and appearance for better professional and personal prospects during times of transition and change" he added.
Nu/Hart offers free personalized hair restoration consultations as well as detailed information over the phone. Call 44 208 99 55 111 to reach our UK centre or visit nuhart.com to schedule a FREE Consultation. For actual client results and before/after pictures, you can also visit Nu/Hart's multi-lingual web site.
###