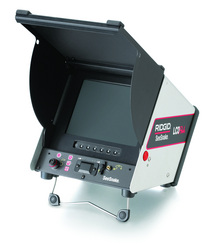 Elyria, Ohio (PRWEB) April 10, 2009
The line of SeeSnake® drain and sewer inspection cameras and monitors from RIDGID® continues to evolve with the introductions of the SeeSnake LCDPak and MINIPak monitors. Designed for performance and durability, the highly portable monitors provide professionals with the ability to clearly view and diagnose line blockages located via the high-performance SeeSnake cameras from RIDGID.
SeeSnake LCDPak Monitor
With its lightweight design and battery-powered freedom, the new SeeSnake LCDPak from RIDGID allows professionals to use their camera systems in areas that could not be accessed before. Built with a full-size, 10.4", color LCD screen, the reduced size unit (14.3" x 11.9" x 12.4") frees up storage space -- on and off site -- and can easily be moved from one location to another. The LCDPak monitor can be powered by lithium-ion battery or AC power.
SeeSnake MINIPak Monitor
The new SeeSnake MINIPak features a large (5.7"), daylight readable, color LCD display and an easy-to-operate, push button interface. Its portability and battery capability makes it an ideal complement to any SeeSnake reel. The five-button, LED control interface operates the unit's transmitter, MINIPak's screen settings (10 adjustable levels) and system on/off. A RIDGID 2.2A 18V rechargeable, lithium-ion battery powers the unit, providing five hours of uninterrupted use. The MINIPak can also operate on AC power via a supplied adaptor.
The SeeSnake LCDPak and MINIPak monitors each include the new RIDGID integrated line trace feature. By attaching a RIDGID transmitter to either monitor, this feature allows professionals to trace the entire SeeSnake push cable to identify the route of the piping system. In addition, the LCDPak and MINIPak are compatible with all SeeSnake reels and carry lifetime warranties from RIDGID.
"The addition of these products is just the first of many soon to be available upgrades and improvements we are making to the SeeSnake product line," said Sarah Golish, RIDGID director of inspection systems & networks. "By adding more product depth and options to our catalog, like we have with the SeeSnake LCDPak and MINIPak, we can continue to help improve jobsite efficiencies for the men and women who use our tools."
About RIDGID
RIDGID®, a leading manufacturer of hand and power tools, markets its products in more than 130 countries. The company's broad offering of more than 300 types of tools serve the rental, plumbing, HVAC/R, utility, industrial, electrical, petroleum, institutional, commercial and hardware markets. RIDGID is part of Emerson Professional Tools™, a business of Emerson, which brings technology and engineering together to design and produce some of the highest-quality tools and equipment in the world. From wet/dry vacs to the industry's best-selling pipe diagnostic system, key brands include RIDGID®, KNAACK® and WEATHER GUARD®.
About Emerson
Emerson, based in St. Louis, Missouri, is a global leader in bringing technology and engineering together to provide innovative solutions for customers through its network power, process management, industrial automation, climate technologies, and appliance and tools businesses. Sales in fiscal 2008 were $24.8 billion. For more information, visit http://www.Emerson.com.
For additional information about SeeSnake LCDPak and MINIPak monitors from RIDGID, please visit http://www.RIDGIDUpgrade.com, call toll free: 1-800-769-7743, or contact RIDGID, 400 Clark St., Elyria, Ohio 44035 U.S.A.
###