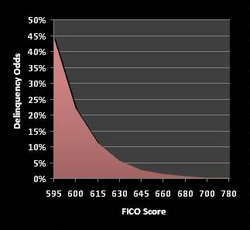 You need only glance at the statistics to see that the odds of a borrower becoming delinquent on his or her mortgage go up more than 100 times from a sub-600 FICO score to a 700-plus score. That is huge! Now the banks are looking at this data with renewed interest
(PRWEB) April 13, 2009
Since the early 1990s, a FICO score has been a standard component of home lending decisions in the United States. During the time of increasing property values in the new millennium, the score became less significant, as the rise in values served to get many borrowers out of trouble with payment obligations. Now that property values have come crashing down, banks are once again placing an increased importance on FICO scores as a determining factor for lending decisions, says Rick Arvielo, president of New American Funding, a fully delegated FHA lender that works distressed borrowers through successful write-down negotiations and loan modification activities.
"You need only glance at the statistics to see that the odds of a borrower becoming delinquent on his or her mortgage go up more than 100 times from a sub-600 FICO score to a 700-plus score. That is huge! Now the banks are looking at this data with renewed interest," Arvielo says.
Even with the assistance of the Federal Housing Administration -- which basically doesn't acknowledge FICO -- major lenders are simply refusing to accept borrowers with sub-600 FICO scores, making FHA's desire to provide financing to those who might otherwise qualify irrelevant.
"I find myself puzzled by the telegraphing being done by the industry, which suggests a borrower need be in default before he or she can receive attention from loss mitigation and default prevention opportunities, given the fact that doing so will destroy your chances for a new loan as your all-important FICO will be adversely impaired," Arvielo says. "Fannie Mae's own guidance suggests 'At least two full monthly payments of principal and interest (P&I), taxes, and insurance (or P&I only if taxes and insurance are not escrowed) are due and unpaid' before a homeowner qualifies for help.
"With all of this taken into account, the result is a landscape where an individual will likely need to destroy his or her credit worthiness in order to receive the interest rate reprieve some most desperately need, regardless of intent. That is truly a shame!"
FICO credit bureau risk scores are available at all three major US credit reporting agencies -- BEACONsm at Equifax, EMPIRICA® at Trans Union and the Experian/Fair Isaac model at Experian. (1991).
For more information on New American Funding or president Rick Arvielo's position on the banking industry's use of FICO scores as a determining factor in lending decisions, visit http://www.newamericanfunding.com/.
About New American Funding
New American Funding is a HUD approved FHA direct lender. The company staffs an expert team of loan specialists that can help homeowners get out of an existing adjustable rate mortgage and into an affordable 30-year government insured loan. In addition, New American Funding staffs a full team of loan modification specialists to assist homeowners in saving their homes from foreclosure.
# # #