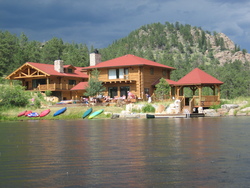 Estes Park Colorado (Vocus) April 3, 2009
A feast for the eyes, and a delight for the senses, located only 6 miles from downtown Estes Park, Lost Antler Ranch is exactly what people are looking for when searching for the perfect Colorado location for weddings, corporate retreats, family reunion or any other type of event.
Dr. Eric Swanson, from Leadership Network in Dallas, TX has been using Lost Antler Ranch for the past 5 years, bringing executives from all over the world for multi-days retreat and according to him "Without a doubt Lost Antler Ranch is the ideal environment for collaborative thinking, team-building, and strategic planning. The ample facilities offer the accoutrements necessary for business meetings and the vast acreage, lake and streams offer recreation opportunities that other sites can only dream about. Lost Antler Ranch is the setting that exceeds your highest expectations."
It is true that this idyllic Rocky Mountain getaway features a private 5 acre lake with island, gazebo, state-of-the-art Conference Center, 10+Person Hot tub, 3 spacious residences, adorable cabin, commercial kitchen, workout room, and exclusive access to some of the best hiking trails that Colorado has to offer. In the summer you can fish, swim, kayak, canoe, swing on the rope over the lake, or enjoy the 25 ft water trampoline. In the winter the lake offers ice-fishing, figure-skating, hockey, or speed skating.
The entire ranch can accommodate up to 50 people and gives you access to 5 Buildings: The Lake House, The Lodge, The Meadow House, The Cabin as well as a Conference Room and Home theater, all of them connected by pathways and dirt roads.
More about the facilities:
The Lake House is a 3 bedroom, 3 ½ bath 3,150 sq ft residence that overlooks a private lake. This luxurious custom-built log home sleeps 10 . The Lodge can sleep up to 16 people in the 4 bedroom suites. The Meadow House sleeps up to 20 people in its 3 bedroom suites. As for the Cabin, it is a cozy one-bedroom suite that sleeps 2, with private deck and kitchenette. The state-of-the-art conference/media center offers everything you'll need to host corporate meetings, presentations, or slide shows.
Dr Dennis Rainer hosted a family reunion of 25 and from his point of view: "Lost Antler Ranch exceeded our expectations for our family's reunion on every front. The setting is incomparable and remains one of THE most magnificent locations we've ever stayed. The accommodations were first class and provided numerous cozy spots for us to reconnect with one another. Hiking the trails, catching a dozen rainbow trout, roasting s'mores while surrounding a fire pit, and canoeing the lake all provided wonderful recreational adventures. Plus there are so many extras that made our time so memorable…wading in a stream, counting over 40 wildflowers, looking for elk and deer, and camping at the yurt! Plus the staff was friendly, helpful and made our stay absolutely delightful. Our family would go back in a heartbeat!!!"
The Staff at Lost Antler Ranch can help you with all of your Colorado event needs, creating personalized packages with everything from finding an event planner to catering, organizing activities for your group, transportation, and a lot more.
For more information on Lost Antler Ranch, or to start planning your Colorado event today, you can contact us at 303.381.2602 or visit the Lost Antler Ranch's website now.
###