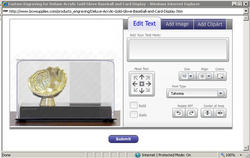 Tel Aviv, Israel (Vocus) April 2, 2009
Nowadays, personalization is big business. Everyone wants to stand out and be seen with something that's unique and made just for them. Whether that means an engraved little desk trinket or a custom print t-shirt, a forward thinking company can make big bucks satisfying that need to be seen.
Online though traditionally, it's a little harder to accomplish this goal when you factor in the way business is done today. Customers want to know what custom options are available. Customers want to get an idea of what the finished product will look like. Old eCommerce software won't cut it if you want to do all that online because the functionality simply isn't there. Adrecom's new eCommerce suite tackles this challenge and quite smoothly.
Adrecom is now releasing the newest version of its shopping cart platform by including a whole new set of eCommerce interfaces which integrate a unique set of Flash-enabled visualization tools for today's custom-crazy market. Do you want to start a custom shirt venture? The personalization tools will let your customers design the shirts right from their PCs. Do you want to start a corporate gift site? That's easy too as you can let people choose fonts, elements and graphic designs on their gift items.
Customized products are seen as the new market trend. Legacy ecommerce applications may not be up to speed as this need manifests itself in the online marketplace. Whether you're offering personalized monograms on towels or laser etching on wood, your eCommerce software has to be up to the job. And Adrecom is more than capable for the task.
For more information on Adrecom, or to find out more about you can power your web store with social networking functionality, visit http://www.adrecom.net.
Contact:
Lev Kacnelson
39 Masada st.
Petach-Tiqwa,
Israel 49193
Phone: 972-3-921-3734
Fax: 972-3-9236687
Website: http://www.adrecom.net
adrecom(at)pressreleasehosting.com
###