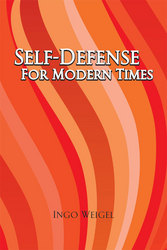 We are helping people to feel and be safer
Chicago, Illinois (PRWEB) April 2, 2009
Ingo Weigel, an immigrant from East Germany, announces the availability of a new self-defense and fitness program in Chicago at his Revat complex. Teaching professional adults living in an urban environment how to use the only weapons at their disposal 24/7 — their hands and feet — the Revat program is a unique exercise regimen that trains pupils how to improve natural reflexes in times of stress (like a self-defense situation).
"Self-Defense is not only physical, it is also about the combative mind set / state of mind," says Ingo Weigel.
Revat training also creates a more balanced and calm attitude towards stress and challenges, teaching one to control their fear of being attacked and increasing one's confidence to tackle life's challenges. The unique curriculum gives the most effective self-defense techniques available, and shows people how Revat can be applied to all five fighting distances. With Revat it does not matter if someone approaches on a dark, quiet street after a night out or in the middle of the day while shopping. Pupils know how to defend themselves and their loved ones.
"We are helping people to feel and be safer," Weigel says. "We offer classes, workshops and instructions in personal safety and self-defense. We also offer instructor certification programs."
To learn more, or to see demonstration videos, visit the Revat Web site at http://www.revatfitness.com.
About Ingo Weigel:
Ingo Weigel is the author of "Self-defense for the Modern Times," a former boxer turned martial artist. While growing up in former East Germany, martial arts were limited and controlled by the iron fist of the communist government. He boxed his way through the ring only to find himself looking for better answers. After the wall came down in 1989, he got involved in martial arts. He then started his own journey with a friend and colleague to create a program that can be learned and applied effectively in the 21st century. He is also the author of "Self-Defense for Modern Times," the first book on Revat, an innovative fitness and self-defense program for professional adults living in an urban environment.
After many years of study, trial and error he created Revat, a highly effective program based on principles that can be applied easily to one's height and fitness level. It is also ideal for professional adults living in an urban environment, complimenting traditional and mixed martial arts with a unique focus on tactile reflex training.
Contact:
Ingo Weigel
800.615.3543
312.235.6984
http://www.revatint.com
http://www.revatfitness.com
http://www.therevatbook.com
###