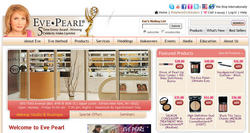 I wanted a website where people from all over the world could be educated in makeup
New York, NY (Vocus) April 14, 2009
Five time Emmy Award winning celebrity makeup artist and author of 'Plastic Surgery without the Surgery, the Miracle of Makeup Techniques' (Warner Books), Eve Pearl, brings her award winning approach to beauty to life on her cosmetic community web site, http://www.EvePearl.com , powered by the new Ecommerce Software Suite from Adrecom.net].
Eve's new cosmetic web portal will offer a one-of-a kind online shopping experience combined with online education in the art of makeup through Video Tutorials in the EVE PEARL® technique. Visitors will also be able to view a simple rundown of products used in each video and have the opportunity to easily purchase the items using their state-of-the-art online ordering system. What sets EvePearl.com apart from other cosmetic related websites is the individual's experience and opportunity to recreate the makeup process from the privacy of their own home.
"I wanted a website where people from all over the world could be educated in makeup," says Eve. "I realize that not everyone has access or even the opportunity to learn from the industry professionals, but if I can teach people through an online medium to properly apply their own makeup, with the right tools and products, they not only look good but feel good for a lifetime."
By using the integrated content management features of Adrecom's ecommerce platform, EvePearl.com will also offer product specials, wedding preparation tips, EVE PEARL® Experience Studio & Boutique service list, seminar registrations, and a plethora of reading material about the proper way to apply makeup using the EVE PEARL® Luxury Brand of CosmeNutrients™ -- cosmetics infused with nutrients.
EvePearl.com has been educating women worldwide for years and selling products Internationally, and is an extension of the boutique and studio, located at 805 Third Avenue in the heart of New York City. For more information please call 212-223-2229 or e-mail contact (at) evepearl (dot) com.
###