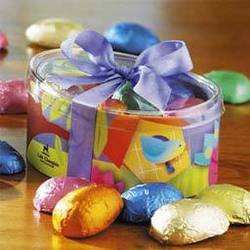 Consumers are choosing quality over quantity right now and making their indulgences count.
Burlington, Vermont (PRWEB) April 1, 2009
Springtime gift giving and chocolate are synonymous - from chocolate bunnies and filled eggs given at Easter to beautifully decorated chocolate boxes for Administrative Professionals Day and Mother's Day. And while 2009 will be no exception, this year consumers are looking for and expecting more from their purchases.
Beyond just giving a gift, consumers are looking to treat their loved ones to an experience, something memorable and worthwhile. It's a matter of value and quality combined. Lake Champlain Chocolates is pleased to offer a complete line of springtime chocolate gifts handcrafted in small batches from all-natural ingredients - truly enjoyable to both give and receive.
As a gift, gourmet chocolate has become increasingly popular as the recipient can enjoy it at their pace, share it, and truly indulge themselves. And no matter the economy, waking up to a chocolate bunny or remembering Mom with Mothers Day chocolates are traditions that won't be foregone.
"Consumers are choosing quality over quantity right now and making their indulgences count." said Director of Sales Allyson Myers. "A handcrafted Lake Champlain Chocolates Easter Bunny on Easter morning is the ultimate gift."
New for Easter is the introduction of the Nuts and Raisins Egg Box and the Classic Easter Basket now offered in both a milk chocolate and dark chocolate option. 2009 Easter gifts also include the Treasure Surprise Egg and Foiled Eggs Gift Bag. There is also a selection of chocolate bunnies, squares, and gift boxes.
Additionally, Lake Champlain Chocolates also offers a line of chocolate gift boxes, truffles, and squares including a new 5-piece Peanut Butter Cup gift box, each festively decorated for the spring season and ideal for Administrative Professional's Day, Mother's Day, or any springtime celebration.
Lake Champlain Chocolates Started On a Dare.
In 1983, Jim Lampman, owner of Burlington, Vermont's acclaimed Ice House Restaurant on the Lake Champlain waterfront, was buying expensive boxes of chocolates as gifts for his staff. One day, his pastry chef, a man of high epicurean standards, took Jim aside after receiving one too many boxes. "These chocolates are terrible," he confessed. "All right then, you do better!" Jim challenged him.
Shortly thereafter, Jim was presented with hand rolled, distinctively flavored truffles - the finest chocolates Jim had ever tasted. Jim began serving them Sundays to select restaurant patrons. The response was so favorable, Jim founded an upscale chocolate company to keep up with the demand.
Although intended only for wholesale, and located in a tiny alley, the business was constantly interrupted by retail customers who somehow found out which door to knock on to get the locally famous truffles. Jim eventually sold the restaurant to devote himself full time to his new business.
Starting with chocolate truffles, he soon concocted Chocolates of Vermont. The product line has since grown to include hot chocolate, Signature bars, Five Star bars, novelties and much more.
In 1998, we moved to our present location at 750 Pine Street. We make all of our chocolates in one 24,000 square foot building. During peak season, we're nearly 100 people.
The growing team at Lake Champlain Chocolates continues with the highest standards of chocolate-making Jim began with twenty years ago, and still uses only the freshest, natural ingredients.
About Lake Champlain Chocolates Company
Lake Champlain Chocolates offers sweet indulgences that capture the essence of Vermont, the tradition of making fine chocolate, and the pride that goes into each bite. Preservative-free and Kosher-certified, Lake Champlain Chocolates are crafted in small batches from the finest quality Belgian chocolate and select natural ingredients including local Vermont cream, sweet butter, maple syrup, and honey. Lake Champlain Chocolates are available online, or can be ordered by phone toll-free at 1-800-465-5909. Lake Champlain Chocolates Company also operates three company-owned retail stores in Vermont, and distributes nationwide at specialty food & gift stores and upscale hotels & inns.
Lake Champlain Chocolates has been making fresh, all-natural gourmet chocolates for 25 years. Specialties include chocolate gift baskets, chocolate truffles, wedding chocolates, and their ever-popular Chocolate of the Month Club.
# # #