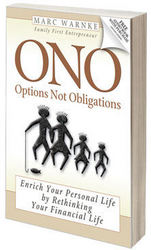 It's not about the money. It's about not having the pursuit of money interfere with the pursuit of life.
Boise, ID (PRWEB) April 20, 2009
Studies show that almost 70% of all employees dislike or downright hate their jobs. That is, if they have jobs. Currently there are over 20,000 Americans losing their jobs daily. There is serious pain going on and there are solutions to the stress says author, Marc Warnke (http://www.marcwarnke.com) in his book, ONO Options Not Obligations: Enrich Your Personal Life by Rethinking Your Financial Life set to release on Amazon on April 22.
"I believe many Americans have developed a huge tolerance for what I define as the eight to five pain. Most of us learn to deal with it, and even scarier, to accept it in our everyday lives. The pain has become the norm. Most people trudge through life bearing with it because they believe there no other options," says Warnke.
Warnke challenges the business model of the 8 to 5 in exchange for what he terms "Family First Entrepreneurism." He tells readers that you don't have to live with this pain. "It's not about the money. It's about not having the pursuit of money interfere with the pursuit of life." He believes that a serious turn toward learning how to be a successful entrepreneur is the answer to the 8 to 5 pain and to motivate individuals to be in charge of their destiny specifically in regard to employment stress.
The state of Idaho is also backing the idea of Family First Entrepreneurism. Governor Butch Otter has declared April 20-24, 2009, "Family First Entrepreneur Week" in the state of Idaho on behalf of Marc Warnke and the revolutionary business model.
ONO: Options Not Obligations by MarcWarnke is scheduled for release this week. A Global Launch event will be held on Monday April 20 on the 11th Floor of the Banner Bank building at 950 West Bannock in Boise, Idaho from 5:15 to 6:30. The public is invited.
Marc Warnke who lives in Boise, Idaho will be available for interviews by phone or live in the Boise area. He may be contacted directly at 208 867 6675 or by email at marc (at) marcwarnke (dot) com. For additional information see http://www.ONObook.com.
###