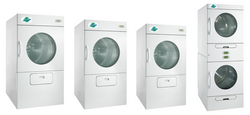 The Dry EcoSmart line ushers in a new era of the green movement -- laundries can go green without compromising anything in their business model. Speed no longer has to be sacrificed for efficiency and green ideals don't have to be sacrificed for profitability
Fall River, MA (PRWEB) April 3, 2009
American Dryer Corporation ("ADC") has launched its newest line of laundry dryers: Dry EcoSmart. Engineered to be up to 30% more energy efficient while drying in exactly the same time as competitive dryers, Dry EcoSmart dryers provide the best of both worlds: speed/throughput, and maximum energy efficiency.
Dry EcoSmart dryers were engineered to meet the diverse needs of laundry users. In some settings, such as hospitality, employing an energy-efficient dryer can assist in garnering LEED green-building credits in the short-term for the owner while also lowering utility bills over the long-term for the operator. In the past, the decision to go green has sometimes meant a compromise in throughput, and many operations could not sacrifice throughput for the sake of efficiency. Dry EcoSmart eliminates this decision by offering both. Dry EcoSmart dryers dry in the same time as competitive dryers. With double-paned door glass, 100% axial airflow, and other state-of-the-art design features, the Dry EcoSmart also saves up to 30% in energy consumption and costs.
Dry EcoSmart features a lint tray that is 300% bigger, making the task of emptying lint less frequent, increasing throughput even more. With all the features you expect from American Dryer, like multi-lingual self-diagnostic controls, available residual moisture control, available S.A.F.E. (sensor-activated fire extinguishing) system, and individual machine testing at the factory, the Dry EcoSmart line takes its place in the pantheon of ADC dryers that deliver quality, dependability and affordability.
"The Dry EcoSmart line ushers in a new era of the green movement -- laundries can go green without compromising anything in their business model. Speed no longer has to be sacrificed for efficiency and green ideals don't have to be sacrificed for profitability," said John Olsen, Vice President of Sales and Marketing at ADC. "We hope to compel more laundry owners to act eco-friendly. We are thrilled to be able to do our part for the environment while never losing sight of our customers and their profitability needs, especially in these difficult times."
Dry EcoSmart dryers are available in 75 lb., 50 lb., 30 lb., and 30 lb. stack sizes. They are also available configured for the vended laundry industry (coin or card).
About ADC:
American Dryer Corporation designs and manufactures energy-efficient drying solutions for commercial coin-operated, on-premise and industrial laundry markets in over 90 countries worldwide. ADC devotes its business to providing more models of dryers that perform better than any others. The result of this single-minded pursuit is well recognized by the ADC symbol, which is the hallmark that is trusted by laundries worldwide for total quality. It is this quality that has helped establish American Dryer Corporation as the world's largest sole manufacturer of commercial laundry dryers. ADC dryers are available in sizes ranging from 20 to 460 lbs. For specific information visit amdry.com.
###