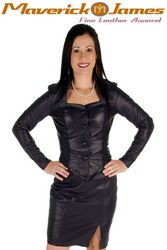 Black and other dark leather colors allow manufacturers to use low quality leather because the dark color allows manufacturers to hide many of the defects in the lower quality leather they are using
Clarkston, Michigan (PRWEB) April 7, 2009 -
Maverick James, a new company selling women's fine leather apparel, is proud to announce the launch of its new ecommerce site, Maverick James - Fine Leather Apparel.
Company President, Dennis Ledbetter, is hoping to change the perception of leather apparel through the company's selection of mainstream, trendy fashions. "When I told people that we intended to make and sell leather apparel, they immediately assumed that we were going to sell leather motorcycle clothing. When I showed them our line of upscale women's leather dresses, skirts, pants and coats, they were simply amazed because it was nothing like what they had expected," said Ledbetter.
Maverick James' line of women's leather apparel is made from high quality full grain Napa lambskin leather, which, according to Ledbetter is unlike most other manufacturers. Ledbetter says that over the last decade, with the popularity of motorcycling, the leather apparel market primarily centered around biker wear. Practically overnight, he says, entrepreneurs sought to cash in on the exploding demand. Hundreds of businesses popped up selling biker wear, many of them on the internet. Along with the huge demand, came fierce competition for sales. Retailers of biker wear demanded lower prices from manufacturers in order to out-rival competitors. Manufacturers turned to lower or inferior grade leather as a way to satisfy this need. "Black and other dark leather colors allow manufacturers to use low quality leather because the dark color allows manufacturers to hide many of the defects in the lower quality leather they are using," said Ledbetter. "So it was a good thing for manufacturers that the biker wear market was primarily centered around black leather."
This then spilled over to other parts of the leather apparel market as manufacturers and some retailers sought to recoup lost profit margins. "For skirts and pants, they started using the same inferior leather and to make them even cheaper, many manufacturers eliminated linings. That's how you get leather skirts for $30 and leather pants for $50," said Ledbetter.
Maverick James is consistently high quality, available in a wide range of colors, and all of the garments are lined, making them comfortable to wear year round. The line includes styles that are trendy, feminine and sexy. Most of the designs are perfect for any occasion. "The lower quality, cheap end of the market appears to be sufficiently covered, so we decided to go back to the roots of the leather garment industry and make upscale fashionable garments that will flatter women's figures. We believe that women will really be excited about our styles and colors," Ledbetter said.
Maverick James line of fine leather apparel for women is available on the internet at http://www.maverickjames.com.
For more information or to arrange an interview, please contact Dennis Ledbetter at (877) 491-3834, ext. 709 or by email at info(at)maverickjames.com.
####