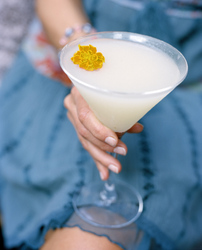 Our sake in an amazing organic NY cocktail. Is that heresy? No way. We love the idea! It's great to see how something grew out of our Oregon philosophies and found a home on the drinks list of one of New York's hottest restaurants
Portland, OR (PRWEB) April 1, 2009
There is something sexy cool about sake today. It's exotic, smart, healthy and fun. But for Oregon's SakeOne, there is nothing sexier than the seemingly unlikely blend of Oregon craft sake brewing sensibilities and the raw food philosophies of Sarma Melngailis, at her NY Pure Food and Wine restaurant.
"Being in Oregon we are very sensitive to our environment and the impact our efforts have on the planet. It's just part of living here, part of our lifestyle, to seek eco-friendly opportunities," noted SakeOne Vice President, Dewey Weddington. "The idea of brewing a certified organic sake is a natural evolution of bringing our philosophies to our sake and that was only a matter of taking the steps necessary to get our Kura (brewery) up to speed for organics.
The SakeOne brewery in Forest Grove, OR began brewing sake in 1997 and is the only American owned and operated sake brewery. In the Spring of 2008 the brewery was certified by Oregon Tilth for organic processing and with organic rice source in hand, the sake brewer went to work crafting the first organic brews under the nationally acclaimed Momokawa label.
"What amazed us all was just how different the organic rice brewed. We had a very robust fermentation process, so much so it was like the yeast was very happy and throwing a big party to share the new food with friends," noted SakeOne Sakemaster, Greg Lorenz. "The end result is humbling. It's probably the best we've ever brewed. Amazing aromas and flavors that we've not yet seen in our sake and I can definitely say, it was the rice."
Across the continent, in NY city, Pure Food and Wine (opened in Spring, 2004 and co-founded by Sarma Melngailis.) continued its mission to strengthen its unique culinary take on organic cuisine and elevate raw-vegan food to a new place among gourmet cuisine and concept restaurants. Seeking to expand and enhance its drink menu, Pure Food's Mixologist, acquired a bottle of Momokawa Organic Junmai Ginjo and began exploring.
A very food friendly sake that pairs well with a vast range of foods from clam poké and fruit salads, to bold spiced dishes like curry, the Oregon crafted organic sake found a new home. "The Momokawa sake is ideal for this restaurant," noted Joey Repice.
Repice went past the pure glass of sake and began experimenting with it in cocktails. The result is a Jasmine infused elixir that gains high marks from staff and customers alike. "When the entire staff did a taste test, everyone agreed hands down, that our Jasmine Kiss-tini was best when made with the Momokawa sake."
THE JASMINE KISS-TINI
To Make Infused Sake
Infuse 750 mL of Momukawa Ginjo Sake with 1 whole small organic pineapple (cubed) and 1 cup of organic One Lucky Duck Goldenberries (available at oneluckyduck.com) for 1 1/2 days. Strain sake and mix with 2 cups oorganic Jasmine Pearl tea.
To Make Cocktail
Mix 8 oz of sake mixture with a splash of homemade lemonade (organic lemon juice, water, and agave nectar to taste). Shake over ice and strain into martini glass. Serve with edible flower.
"Our sake in an amazing organic NY cocktail. Is that heresy? No way. We love the idea! It's great to see how something grew out of our Oregon philosophies and found a home on the drinks list of one of New York's hottest restaurants," noted Sakemaster, Greg Lorenz. "We've made a new friend out of common ideas and desires and now, because of Sarma and Joey, their guests get to enjoy our sake everyday. That's not heresy, that's karma.
Pure Food and Wine was featured twice in New York Magazine's "Top 101 Restaurants" and five years in a row in Forbes magazine's list of "All Star New York Eateries" with three stars, in the company of the most highly rated restaurants in the city. In both cases, the restaurant is included on its own merits, not in any vegetarian category. The restaurant feeds people flavorful feel-good food in a warm, plush and somewhat sultry environment, where people can also drink wine, sake cocktails and (in the warmer weather) do all of this under trees in the courtyard garden. The idea is to make it far from obvious that it is in fact a very healthy restaurant since thus far, raw and vegan do not imply sexy and fun to most people (though Sarma is working to change that).
SakeOne is the leading brewer and importer of premium sake in America with distribution throughout the U.S. and the Americas, carries more Silver, Gold, Double Gold, Platinum and Best of Show awards than any other domestic sake brewer. Founded in 1997, SakeOne crafts sake under the Momokawa (traditional styles), Moonstone (fruit infused), G (cask strength), and Peaceful River (for restaurants only) brands, and imports sake under the Murai Family label.
The Momokawa Organics recently received high marks from the Beverage Testing Institute and beat many high demand, high priced imports.
Beverage Testing Institute Scores
Momokawa Organic Ginjo (Junmai) scored 91 points, outperforming:
90 • Nanbu Bijin Daiginjo Sake $50/720ml.
90 • Okunomatsu "Shizuku Juhachidai Ihei" Daiginjo Sake $120/720ml.
88 • Kurosawa Premium Reserve Daiginjo Sake $50/720ml.
88 • Hananomai "Gentei" Daiginjo Sake $50.
87 • Kanchiku Junmai Daiginjo Sake $37/720ml.
86 • Gekkeikan "Horin" Junmai Daiginjo Sake $35/720ml.
84 • Yaegaki "Mu" Jun-Mai-Daiginjo Sake $22/720ml.
81 • Okunomatsu 2008 Junmai-Daiginjo Sparkling Sake$5.50/300 ml.
Momokawa Organic Nigori scored 89 points, outscoring:
86 • Tozai "Voices in the Mist" Nigori Ginjo Sake $25/720ml. Kosher
83 • Mizbasho "Nigori" Sparkling Sake $50/720ml.
82 • Gekkeikan Nigori Sake $8/300 ml.
###