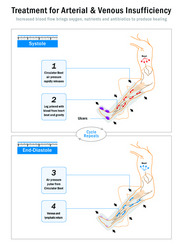 Philadelphia, PA (PRWEB) April 1, 2009
The American Professional Wound Care Association (APWCA) is hosting their annual meeting in Philadelphia, PA on April 2 - 5, 2009 at Sheraton Philadelphia City Center. During this event, Circulator Boot Corporation, a medical device manufacturer specializing in end-diastolic pneumatic compression boots, will be demonstrating the value of end-diastolic pneumatic compression (EDPC) on patients with diabetic, venous, and ischemic wounds.
On Thursday, April 2 from 12:00 - 2:00 pm, a Pre-Conference Course, "Pneumatic Venous & Arterial Therapy" will be presented by Dr. Richard Dillon, Medical Director and Founder of Circulator Boot Corporation. This Course offers Continuing Education credits.
During the Course, Dr. Dillon will highlight the following:

FDA indications for end-diastolic boot therapy
Clinician protocols for EDPC treatment across a range of wound types caused by vascular impairment
The science underlying the strong clinical results of EDPC
Utilization of EDPC as a co-modality with traditional HBO, angioplasty and bypass therapies
Case reviews of at-risk patients who benefited from EDPC therapy
EDPC therapy is approved for use by the Veterans Administration and is reimbursable under Medicare, GSA, Tri-Care and many private insurance carriers. Personal demonstrations of the Circulator Boot will be given in Booth #46. At the booth, press and attendees can have direct discussions with Dr. Dillon and other Circulator Boot representatives.
To learn more about APWCA's Annual Meeting, visit http://www.apwca.org.
To learn more about the Circulator Boot, visit http://www.circulatorboot.com.
About Circulator Boot
The Circulator Boot™ is the only cardio-synchronous compression device approved by the FDA for patients with peripheral arterial disease, ischemic ulcers, rest pain, claudication, venous stasis, lymphedema, and diabetic foot. The device is non-invasive and its use is contraindicated only by the presence of fresh deep vein thrombi in the legs and/or aortic valvular insufficiency associated with heart failure. The Circulator Boot therapy is included under Medicare and GSA Schedules and is approved for use by the Veterans Administration. Over 8,000 patients (300,000 treatments) in the United States and around the world have been treated by the Circulator Boot for non-responsive wounds and legs at risk of amputation. For additional evidence on the therapeutic benefits of Circulator Boot treatments, please review the clinical studies and case histories found at http://www.circulatorboot.com.
About APWCA
APWCA (American Professional Wound Care Association) is a non-profit medical association welcoming all medical specialties involved in treating the various forms of non-healing wounds, including diabetic, vascular, ischemic, pressure ulcers, burns and cancer. For more information, visit http://www.apwca.org.
###