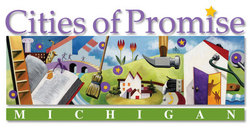 This is a critical situation we face,
Hamtramck, MI (PRWEB) April 1, 2009
The diminutive city of Hamtramck, MI, recently reported that more than 400 homes are in foreclosure and that signs of relief are nowhere in sight.
In an effort to ameliorate some of the panic, Cities of Promise/Michigan State Housing Development Authority (MSHDA) and the City of Hamtramck have teamed up. By offering two Home Foreclosure Prevention Seminars, the two camps are hoping to give homeowners the tools they need to face the local housing crisis.
"This is a critical situation we face, " says Eve Doster Knepp, Events Coordinator for the Hamtramck. "For no charge, attendees will be able to talk to credit counselors, banking experts and advocacy groups. There's help out there and we want people to know."
"This event is for anyone who is feeling the pinch -- those facing home foreclosure as well as those simply struggling to make the mortgage payment," says Knepp.
The Home Foreclosure Prevention Seminars are scheduled to take place 10 a.m.-1 p.m. on Saturday, April 25 at the Hamtramck Public Library (2360 Caniff, Hamtramck, MI; 313-365-7050) and 6-9 p.m. on Thursday, April 30th at the Peoples Community Center (8625 Jos. Campau, Hamtramck, MI; 313-875-1750).
Translators are available for non-English speaking individuals and translated literature is available by request.
Interviews with City officials and MSHDA representatives are available.
http://www.downtownhamtramck.com
###