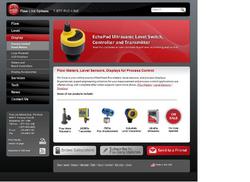 Cleveland, OH (PRWEB) April 1, 2009
Flow Line Options Corp., an American manufacturer and retailer of flow and level instrumentation, has announced the release of their completely redesigned website, http://www.FlowLineOptions.com. Their new site features complete product pages as well as improved navigation and ease of use.
Dave Grumney, President of Flow Line Options, explained that the decision to re-design the company website was based on their customer feedback and anticipated growth of the company. Grumney added that, "The recreation of our website coincides with our dynamic growth as a company and strategic vision for the future. This is a customer friendly site that is used as a platform to launch our innovative flow and level designs while communicating the quality instrumentation our customers have come to expect."
The company's new website offers a modern and client-focused design, while showcasing their latest flow and level products. Raymond Nichols of Flow Line Options added, "I think our customers will find the new content, ease of navigation, and overall layout of the new site as an added benefit. The website was developed to provide customers of Flow Line Options as a valuable resource regarding flow and level instrumentation."
In addition, Flow Line Options' e-newsletter has also received an exciting new look to match their web redesign, but the e-newsletter will still include all the great information that their subscribers have come to expect.
About Flow Line Options
Flow Line Options Corp. (Flo-Corp) has manufactured and designed flow and level systems since 1988 with one simple concept in mind; to provide a measuring system that will have unsurpassed value for their customers. Flo-Corp has decades of experience in flow, level, gas detection, pH, pressure, temperature, and electrical instrumentation. This experience encompasses both the design and manufacturing aspects of instrumentation as well as sales engineering and field support. Flo-Corp prides itself in both the ability to find the proper system for their customer's application, and their ability to support it. For more information about Flo-Corp and its products please visit http://www.FlowLineOptions.com.
###