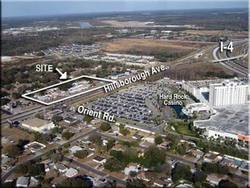 open to any idea that will help us get the compact. …We need the money.
Tampa, FL (PRWEB) April 1, 2009
Earl Williams of Lakeland based Higgenbotham Auctioneers International confirmed today that local Tampa business man Barry Siewert see's the expansion of the Seminole Indian Hard Rock Café & Casino in Tampa as a window of opportunity.
Siewert, who owns the four-acre commercial land tract directly across from the Hard Rock Café, at the corner of Hillsborough Avenue and Orient Road and has slated the tract for auction at 11am on Friday April 3rd. The auction is open to the public.
Located at 7400 E Hillsborough Avenue the tract is a complete county block with over 1880 feet of frontage spread across four roads with 700 feet set directly adjacent to the Hard Rock Café and Casino along the very busy Hillsborough Avenue though fare.
Over the past four years the Seminole Indian casino has seen incredible growth and has done so during one of the nations largest economic down turns. The Seminole tribe is poised to begin what could be a $1 billion expansion project if the Florida State Legislature approves the tribe's gambling compact, which was signed by Gov. Charlie Crist in 2007.
The Senate Regulated Industries Committee authorized an expansion of gambling in Florida last Wednesday. The unanimous vote set into place two bills that when totally approved would allow the Seminoles full scale casinos complete with roulette wheels, craps tables and the like. Once in place the compact could generate upwards of $1 Billion for the State annually.
The Senate portion of the legislation has already won the support of Gov. Charlie Crist, who said that he was "open to any idea that will help us get the compact. …We need the money."
"Our commercial block is in perfect location relative to the casino and is a perfect venue for any hospitality or hotel entity wishing to cash in on the success and popularity of the casino. Current rates at the Hard Rock average $239 -$359 per night. Holiday Inn Express or similar brand could offer affordable rooms with out the overhead sustained by the tribe, Williams stated.
The four-acre commercial tract will be offered in 4 parcels. These parcels may be purchased individually or as a whole. Records show that portions of the tract are currently leased and generating income.
About Higgenbotham Auctioneers:
Founded in 1959, Higgenbotham Auctioneers International (HAI) utilizes the auction method of marketing to sell real estate throughout the United States and the world. Higgenbotham's success is attributed to the company's stellar track record in marketing unique properties and the firm enjoys continuing relationships with Fortune 500 clients such as Alcoa, Wal-Mart, and Albertson's Supermarkets, as well as many publicly traded and closely held companies.
For complete information about this auction contact Earl Williams at 1-800-257-4161 or visit Higgenbotham.com to download a complete bidders packet.
###