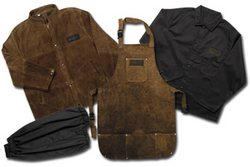 Welding injuries happen too often due to improper protection
Appleton, WI (PRWEB) April 1, 2009
Hobart Welding Products introduces a variety of welding apparel, meeting the demand for quality protective gear at an affordable price. New items include leather and cloth welding jackets, a leather apron and welding sleeves. Ideal for the garage, shop or outdoor use, the new clothing items are made from high-quality materials designed to keep sparks, heat and ultra-violet rays from harming exposed skin.
"Welding injuries happen too often due to improper protection," states Caleb Krisher, product manager, Hobart Welding Products. "Safety apparel such as fire-retardant sleeves and leather jackets take only a moment to throw on and protect against nasty burns and otherwise needless trips to the emergency room."
Hobart safety apparel is offered through farm/ranch and hardware/tool retailers in the U.S. and Canada. Prices and availability may vary by retailer.

Leather Welding Jacket - To meet the protection demands of most welding applications this jacket is made from a high-quality split cowhide, heavy-duty stitching and reinforced snaps, which increase its durability. The HOBART® logo adds a branded detail to a patch on the left chest and deep ergonomic pockets allow for quick and easy access. Hobart's Leather Welding Jacket is available in three sizes: L, XL, XXL. MSRP $60
Cloth Welding Jacket - A lightweight alternative to leather is Hobart's cloth welding jacket. Made with INDURA 100-percent flame-resistant cotton this slate-black jacket features reinforced snaps down the front and on the sleeves, a HOBART® branded patch and pocket. The cloth welding jacket is available in three sizes: L, XL, XXL. MSRP $35
Leather Apron - Perfect for the shop or garage, Hobart's leather apron offers lightweight protection for the chest and thighs. Made from split cowhide, this knee-length apron features neck and waist straps with quick-connect buckles that adjust to a proper fit. One pocket on the chest and three along the bottom provide ample storage. MSRP $20
Welding Sleeves - Keep bare skin covered from sparks, heat and ultra-violet rays. Made from INDURA 100-percent flame-resistant cotton, Hobart's 18-in. long welding sleeves offer cool, lightweight protection and a wide elastic band at the top of the sleeve for added comfort. MSRP $8
About Hobart Welding Products
Hobart Welding Products offers a complete line of industrial-grade Stick, MIG, TIG and spot welders, plasma cutters and generator/welding power sources designed for easy use. Hobart products are available through farm and tool retail stores as well as welding supply distributors.
Hobart Welding Products is a division of Hobart Brothers Company, Troy, Ohio, a wholly owned subsidiary of Illinois Tool Works Inc. (NYSE: ITW). Based in Glenview, Ill. ITW is a multinational Fortune 200 company that engineers and manufactures welding products, fasteners, components, assemblies and systems for customers around the world.
For more information contact:
Corporate Headquarters
HOBART Welding Products
1635 West Spencer Street
Appleton, WI 54912-1079
Literature Requests
HOBART Welding Products
P.O. Box 100
Lithonia, GA 30058.
Web site: http://www.HobartWelders.com
E-mail: info at hobartwelders dot com
Sales & Customer Support: 1-877-HOBART1 (877-462-2781)
# # #