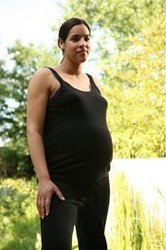 London, England (PRWEB) April 2, 2009
Around half of all women will experience morning sickness during pregnancy. This happens when the body is going through significant changes due to the pregnancy hormone HCG, and can leave mums-to-be with little to no energy, affecting their ability to do normal everyday tasks. Examples of these symptoms include fatigue, nausea, and vomiting.
Despite the fact that there is no way to stop these pregnancy symptoms from occurring, it is possible to cope with these physical changes so that the mum-to-be can manage to enjoy her pregnancy and continue with her everyday life.
So how do you spot the signs of these classic pregnancy symptoms and what can you do about them? Here are some top tips on how to cope with symptoms such as morning sickness and fatigue.
Morning sickness is the side effect of changing hormone levels, especially in the early stages of pregnancy. Vomiting and nausea are the most common symptoms of morning sickness. The most important thing to do when experiencing these symptoms is to have something to eat; if your stomach is empty, you're more likely to suffer from nausea. Some pregnant mums who suffer from morning sickness find that they have problems with holding down food - if this occurs the best course of action is to visit your GP.
How to cope with morning sickness:

Stock up on fluids to prevent dehydration
Keep away from any foods that make your stomach churn
Ginger biscuits are recommended for alleviating symptoms
Eat foods high in starch
Don't even contemplate dieting, but make sure you eat a healthy, well-balanced diet
Eat bland foods that digest easier
If you have to take public transport, plan for extra time during the journey in case you need to take a breather
Top ten ways to beat early pregnancy tiredness
Fatigue is another common symptom during pregnancy, especially in the early stages. Many pregnant women in their first trimester feel like all they want to do is sleep, but obviously when you're trying to hold down a job as well this isn't always possible! Again, there are ways to cope with this pregnancy symptom so that the mum-to-be can feel well-rested but still have enough energy to get things done:
Get plenty of fresh air and take gentle forms of exercise, such as swimming, walking and pregnancy yoga
Don't over-exert yourself
Avoid sugary sweets and treats - it is always better to maintain a well-balanced diet
Pamper yourself with a relaxing bath before going to bed - but make sure that the water is warm, not hot
Give yourself a break if you can't accomplish all of your usual everyday tasks - the housework can wait
When your friends and family offer to help - let them!
Sleep on your side with a pillow between your knees
Try to get as many early nights as you can
Eat foods that are rich in iron and vitamins
Put your feet up when you can
Although many women worry about gaining weight during pregnancy, it's important to remember that this is both unavoidable and, more importantly, it's crucial for your unborn baby. A mum-to-be needs to keep her strength up in order to carry her baby, who relies on his mum for important nutrients which he takes in through the umbilical cord. If you eat too little during pregnancy, then your baby is at a higher risk of being born prematurely or of being born with a low birth-weight.
However, putting on too much weight also has health implications, both for mum and baby. Mums-to-be who put on too much weight are more likely to suffer from gestational diabetes and their baby is at greater risk of suffering from heart disease, diabetes or blood pressure problems later in life. Here are some key points to use as a guide on how to gain an appropriate amount of weight during pregnancy:
o Try to think of your diet in terms of 250-300 calories per day instead of 'eating for two'
o Examples of 300-calorie meals include: cereal, milk and a banana; chicken salad with low-fat dressing, or grilled fish, peas, and mashed potato
Important points to remember about weight gain:
o The amount of gained weight differs from one pregnant woman to the next
o Most women tend to put on around 1.8kg (4lbs) in the first trimester, 0.5kg (1lb) in the second trimester, and 4.6kg (10lbs) in the third trimester
o Not every woman follows this rule - it depends on how much you weigh pre-pregnancy, what stage of pregnancy you are in, and your height. Gurgle offers a pregnancy weight-gain calculator where you can input these factors to estimate whether your weight gain is underweight, overweight, or normal.
o Gained pregnancy weight is made up of: muscle development, increased body fluid, increased blood, breast growth, enlarged uterus, amniotic fluid, the placenta, and your baby
Weight loss post-pregnancy
o Some of the weight will be lost through breastfeeding, which takes up 100-500 calories per day, although this will vary from mother to mother and depends on how much milk the baby drinks
o Don't start losing weight until after six weeks when the doctor gives you the go-ahead
o Changing your diet to lose weight during those six weeks could change your breast milk supply
Simple exercises and a healthy diet are always recommended. Some examples of eating well post-pregnancy include:
Avoiding sugary snacks and sweets
Whole-wheat bread and bagels
Wholegrain cereals and porridges
Poached, grilled, or steamed fish
Water, fruit juice, and milk
Fruits and vegetables
Foods high in starch, such as potatoes
Foods with unsaturated fats, such as sunflower, avocado, oily fish, olive oil, etc.
So, for advice on how to cope with classic pregnancy symptoms, such as morning sickness and fatigue and to find out more about weight gain during pregnancy, turn to Gurgle.
###