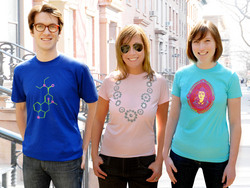 Brooklyn, NY (Vocus) April 1, 2009
Like a great new cover version of a rock n' roll classic, nopooh's MY GENERATION! offers a contemporary interpretation of the Summer of Love. Updating the countercultural themes of peace, love, sex, drugs, and rock n' roll, these six cool t-shirts in nopooh's summer collection rock the hippie chic aesthetic and put a modern twist on classic themes with vibrant colors and a wide range of new t-shirt styles and fabrics from makers such as TQM, Eternal Apparel, and American Apparel.
For nopooh, style and environmental consciousness go hand in hand, and that's why "Flower Power" is printed on an eco- friendly, bamboo fiber tee from Eternal Apparel. Bamboo is a fast growing, sustainable resource producing a luxurious, soft summer t-shirt that is cool and breathes well. nopooh always offers free shipping within the continental USA and complimentary stickers with each purchase.
nopooh is the collaborative work of artist, Rob Tanner, and fashion photographer, Mark Babushkin. Launched in September 2008, nopooh designs individually hand-screened t-shirts featuring bold, graphic images. Avoiding partisan issue and humor driven themes, Rob & Mark's designs embrace irony and ambiguity with a pop sensibility. nopooh's shirts are intended to excite the eye and engage the mind.
nopooh's t-shirt line and limited edition collection, MY GENERATION! are available online in both men and women's styles at http://www.nopooh.com/.
###