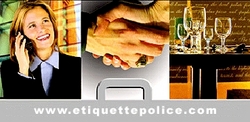 The only pre-requisite for taking this training course is a desire to improve your social grace
London, ON (PRWEB) April 1, 2009
Etiquette 101 is a free online etiquette training course designed and hosted by the EtiquettePolice.com. Initially launched in 2006 this program recently celebrated its five thousandth graduate. When a person comes in contact with highly educated and cultivated men and women our opinions about them are mostly formed by their refined manners. This course is aimed to teach finer etiquette points through concise notes and quizzes. An Online Certificate is awarded after a person has passed her Final Exam. This Certificate will give a person the confidence and satisfaction to be a sophisticated member of the Etiquette Police alumni.
This internet based course is divided into the following five units:
Unit 1 - Dining Etiquette - Covers the Dining and Table Manners
Unit 2 - Business Etiquette - For Business and Corporate situations
Unit 3 - Cultural Notes - Provides info on global cultural differences
Unit 4 - Wedding Etiquette - For wedding and dating situations
Unit 5 - Potpourri - Covers flag, funeral, netiquette etc
"The only pre-requisite for taking this training course is a desire to improve your social grace," says Akbar Pirani, the director of Etiquette Police program. Once a person has been registered with the Etiquette Police, he can login anytime at his own convenience. This course can be completed at one's own pace. A person may complete this course in less than a day, or as long as it takes. The idea is to make sure he has grasped all the information in an effective way. After taking all the five units a registered user can take the Final Exam to evaluate himself on Etiquette 101 course material.
A certificate of graduation is emailed after successfully passing the final exam. This certificate will testify that a registered user has successfully completed the Etiquette 101 training material. He can then be a proud graduate of the Etiquette Police Certification Program.
To learn more about this online course please visit the FAQ page of the Etiquette Police.
Contact:
Akbar Pirani
Director
WalkTall Shoes
Sponsors of the Etiquette 101
Ph: 519-697-3451
###