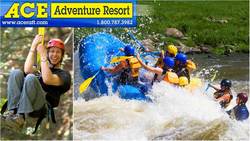 We're pretty excited that a whitewater rafting company can make it to the ripe age of 30
Oak Hill, WV (Vocus) April 1, 2009
For some lucky whitewater fans, earning 30 years of free rafting trips will be almost as easy as saying, "Happy Birthday."
ACE Adventure Resort, West Virginia's largest whitewater rafting outfitter, announced this week it plans to reward 10 creative fans with a free rafting trip for each of the next 30 years. The resort will celebrate its 30th birthday in May, and the contest is a major part of the celebration, according to ACE marketing director Beth Gill.
"We're pretty excited that a whitewater rafting company can make it to the ripe age of 30," Gill said. "So, we decided to make sure some of our guests get to go rafting for another 30 years."
Gill said the prizes are worth about $3,000 each at present value, or about $30,000 for the whole giveaway.
The contest employs social media platforms and a little-known piece of pop culture trivia, Gill said. To vie for a prize, entrants must submit a 30-second "happy birthday" video to the ACE Adventure Resort pages on Facebook (log in and search for Ace Adventure Resort) or YouTube (youtube.com/aceadventurevideo). The catch, Gill said, is that contestants cannot use the traditional "Happy Birthday To You" song.
Although the current state of the copyright is contentious, the rights to the "Happy Birthday" song are privately owned. Consequently, the song never appears on television or film in its entirety without producers paying significant royalties to the rights-holders. It's also the reason many restaurants sing their own, original birthday songs to patrons. According to the urban legend debunking website snopes.com, the song earns owner Warner Chapell about $2 million annually. The copyright is set to expire in 2030.
"We thought, 'We don't want to hear the same birthday song over and over,'" Gill said. "We decided the contestants could come up with their own, creative way to wish us a happy birthday. There's a lot of self-expression in the whitewater world, and our guests are no different. This is ACE's way of letting them show off and rewarding them for it."
Gill said the contest run through May 1, 2009, and the resort will announce the 10 winners before ACE's 30th birthday bash, scheduled for May 16 and 17 at the outfitter's basecamp in Oak Hill, W.Va.
ACE offers spring, summer and fall rafting trips on the New and Gauley rivers. The adventure resort's 1,500-acre facility is also home to rock climbing, mountain biking, fishing and ATV tours, as well as restaurants, lodging and a 5-acre lake and beach. More information on ACE trips and facilities, and complete birthday contest details, can be found at aceraft.com.
###