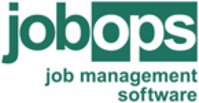 Minneapolis, MN (Vocus) April 1, 2009
JobOps, a Job Management Software solution developed for Sage MAS 90 and Sage MAS 200 ERP systems, announced today that it has released an enhanced version of its Field Service & Dispatch powered by JobOps module in JobOps Version 4.3, Release 2.
Field Service & Dispatch powered by JobOps Enhancements:

Custom Office Integration allows the end-user the ability to add user-defined fields to track specific information
Enhanced field service scheduling lets a technician's time and work locations be scheduled for greater control and productivity of resources
Integration to Sage Sales Tax module
Customizable dispatch board gives better views of customer information and work to be performed
JobOps also supports Sage Software's Extended Enterprise Suite that combines financial, operational, customer relations and business intelligence applications that seamlessly connect customer-facing processes with back office data.
About JobOps and Synergistic Software
JobOps Job Management is a comprehensive solution for automating job management functions for make-to-order, installation, and field service/repair companies and is the preferred choice for hundreds of North America's small and mid-sized businesses. JobOps is published by Synergistic Software Solutions, LLC. a wholly-owned subsidiary of BDO Seidman, LLP. For more information visit the JobOps Web site at http://www.jobops.com or call 612.367.7300 or 800.815.8483.
JobOps is a trademark of BDO Seidman, LLP, and Synergistic Software Solutions, LLC, is a registered trademark of BDO Seidman, LLP. Sage Software, the Sage Software logos, and the Sage Software product and service names mentioned herein are registered trademarks or trademarks of Sage Software, Inc., or its affiliated entities. All other trademarks are the property of their respective owners.
###