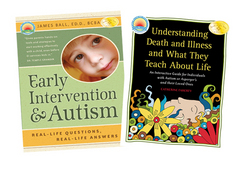 What People May Learn When Facing Death
Arlington, Texas (PRWEB) April 2, 2009
Two books published by Future Horizons, Inc. have recently been named award winners in the 2009 NAPPA (National Parenting Publications Awards) competition. This prestigious award recognizes Early Intervention and Autism: Real-life Questions, Real-life Answers by James Ball (Gold Award winner) and Understanding Death and Illness and What They Teach About Life: An Interactive Guide for Individuals with Autism or Asperger's and their Loved Ones by Catherine Faherty (Honors Award winner) as two of the most innovative and useful products geared to expectant, new, or veteran parents today.
The NAPPA Parenting Resources competition is a companion to the NAPPA Children's Products competition which has been highlighting the best in children's toys, books, music, DVDs, software, video games, Web sites, storytelling and spoken-word recordings for 19 years. The NAPPA program has been recognized for its service to parents, winning the Parenting Publications of America's Gold Award for its Children's Products coverage. NAPPA is a program of Dominion Parenting Media and its winners are featured in more than 30 regional parenting magazines nationwide and at NAPPA.Parenthood.com.
"NAPPA-winning products meet the most stringent criteria and are judged by nationally recognized industry experts, educators and advocates in their fields," says NAPPA spokesperson Barbara Smith Decker. "The NAPPA Parenting Resources awards have set the industry standard of excellence since 1999 and are a sought-after honor by designers, publishers, and manufacturers. Parents know that they can trust NAPPA."
Leave behind confusing textbooks and unreliable websites. Early Intervention and Autism: Real-life Question, Real-life Answers will guide you through your child's early years by providing sound advice based on over twenty years of experience. In an easy-to-read, question-answer format, Dr. Jim explains what makes your child tick, how to get the most out of early intervention services, and how to choose the most effective treatment options. Helpful features include: 10 Common Myths about Children with ASD, 7 Effective Teaching Strategies, 10 Behavior Rules to Live By, and Must-have EI Goals and Objectives for Children with ASD. In a special how-to section in the book, Dr. Jim walks you through a typical day in the life of a young child with autism, from the time the child wakes up to the time he goes to bed. You will learn what to do (and not do), what to say (and not say), and how to use the strategies outlined in the book to teach your child new skills, manage behavior, and have fun while learning! No matter what your level of "autism expertise," this is your game plan to start working with your child RIGHT AWAY!
Understanding Death and Illness and What They Teach About Life: An Interactive Guide for Individuals with Autism or Asperger's and their Loved Ones is a book that finally offers family members and professionals a true guidance for these difficult, but necessary, conversations. Author Catherine Faherty offers detailed, concrete explanations of illness, dying, life after death, losing a pet, and numerous other issues. Her descriptions are written with such care; even caregivers will be comforted by her words.
The Communication Forms following each short topic will engage learners and include them in the conversation, allowing them to share personal experiences, thoughts, and concerns. Wonderful chapters such as "What People May Learn When Facing Death" and "Role Models and Mentors" put death into perspective in terms of life, and encourage us all to live fully.
Catherine covers important topics such as:

Illness and Injury
Recuperating and Healing
When Someone is Dying
What Happens to the Person Who Dies
Putting Pets to Sleep
Rituals and Traditions
What People Say and Do
Plus many more!
About Future Horizons
Future Horizons was founded in 1996 in the belief that dissemination of information about autism and Asperger's Syndrome through books, conferences, and other media would beneficially impact those who live and work with the condition, personally and professionally. Devoted entirely to supporting and fostering such works and programs, Future Horizons has grown to be a world leader in publications and conferences on autism and Asperger's Syndrome.
###