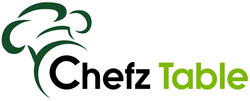 Personal chefs are used for a multitude of exciting services, from providing families with high-quality fresh and healthy home cooked meals to providing cooking classes to individuals and small groups
Portland, OR (PRWEB) April 6, 2009
ChefzTable.com is a brand new Web site devoted to matching people with their next favorite chef. Peruse the personal chef listings to find the perfect person to provide a meal, an intimate class or high-quality catering. The chef will come to the kitchen completely equipped with everything needed to produce a superior, seasonal menu, freeze the leftovers, and clean up.
"Personal chefs are used for a multitude of exciting services, from providing families with high-quality fresh and healthy home cooked meals to providing cooking classes to individuals and small groups," said Ashlee McCusker of ChefzTable.com. "It's not just for the rich. Too often families are too busy to cook body-friendly, tasty food. With ChefzTable.com, they can have a real chef come and cook mouth-watering meals for them so they can stop resorting to unhealthy fast food or unnatural convenience food."
Personal chefs will work closely with clients to plan enticing menus, packed with local flavor that fit easily within the family budget. To get started finding a chef, visit http://www.chefztable.com/find.php.
Alternatively, the chefs can provide high quality cooking instruction for individuals and small groups. Each class students will learn techniques and fundamentals designed to improve their culinary skills and they will receive a comprehensive shopping list so they can have everything they need to recreate what they learn for family and friends.
Classes are perfect for the home cook who wants to improve their kitchen skills, but they also add a dash of excitement to special occasions like weddings, baby showers, birthday parties, anniversaries, bachelorette parties. Let guests take home more memories of a great time, where food, fun and friends mingle to make ordinary parties extraordinary events. Classes can consist of groups of up to six. Classes last for up to three hours with an optional one hour Shopping with your Chefz trip so you can learn tips from a pro so you can get the most out of the local market. To choose from among available classes, visit http://www.chefztable.com/course.php.
For larger groups, ChefzTable.com makes it easy to find caterers who are experienced in helping any event flow seamlessly. Perfect for corporate events, banquets wedding rehearsal dinners and more, ChefzTable.com approved caterers will ensure any gathering is graced with excellent food. To choose from available caterers, visit http://www.chefztable.com/findcaterer.php.
About ChefzTable.com
ChefzTable.com brings together professional chefs with enthusiastic clients needing personal chef services, cooking classes or catering. With a focus on local, fresh sustainably harvested produce, ChefzTable.com puts people in touch with good food and good food experiences. The company is always looking for enthusiastic, talented chefs. For more information, visit http://www.chefztable.com/beachefz.php.
Contact
Ashlee McCusker
888-225-2433
###