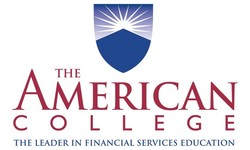 Don't Let Your I.C.E.C.R.E.A.M. Get Messy;
Bryn Mawr, PA (PRWEB) April 1, 2009
The American College is hosting the fourth annual Conference for African American Financial Services Professionals from April 27-28, 2009 at Howard University in Washington, D.C. This year's event will focus on providing participating professionals with the information and tools they need to be successful in today's challenging economic environment.
Keynote speakers at the event include Carla Harris, Managing Director of Global Capital Markets at Morgan Stanley and author of "Expect to Win: Proven Strategies for Success from a Wall Street Vet;" Billy R. Williams, Ph.D., President of Inspire a Nation Business Mentoring Services and author of "Don't Let Your I.C.E.C.R.E.A.M. Get Messy;" and Joseph W. Jordan, Senior Vice President, National Sales Organization, MetLife, known for his "Living a Life of Significance" message.
During the two-day event, participants will have the opportunity to network and learn from other successful African American financial professionals, and attend workshops presented by industry thought leaders. Sessions will focus on topics including:

Building a financial planning practice
Selling in the senior market
Clearing up misconceptions about variable annuities
Marketing in a changing environment
…and more!
"Financial services organizations are increasingly aware that the diversity of their workforce needs to reflect the diversity of their customer base," said Larry Barton, Ph.D., President and Chief Executive Officer of The American College. "Supporting educational events like this is a part of The American College's ongoing effort to promote multicultural professional development and by extension, strengthen the financial services industry through inclusion."
MetLife, recognized for its ongoing commitment to diversity and inclusion, is serving as the Platinum sponsor of the event. Northwestern Mutual Financial Network, Bankers Life and Casualty, and the Washington Informer, a local African American newspaper, are also sponsoring this year's conference.
Registration for the conference is $99 until April 16, 2009. This cost does not include accommodations or transportation. For more information or to register for the Fourth Annual Conference for African American Financial Services Professionals, visit TheAmericanCollege.edu/Succeed09 or contact Fran Kaar at 610-526-1489 or Fran.Kaar (at) TheAmericanCollege (dot) edu.
The American College is dedicated to leadership in innovative training and development that helps financial services companies and their employees succeed. As a non-profit educational institution holding the highest level of academic accreditation, The College has served as a valued business partner to banks, brokerage firms, insurance companies and others for over 82 years. The American College's faculty represents some of the financial services industry's foremost thought leaders. For more information, visit TheAmericanCollege.edu
# # #