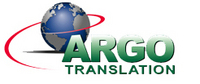 We're committed to helping our current and future clients secure their share of these new revenues by conducting business more effectively across languages
Chicago, IL (Vocus) April 1, 2009
Businesses of all sizes are building new revenue streams through the expansion of global markets for their products and services. "We're committed to helping our current and future clients secure their share of these new revenues by conducting business more effectively across languages," said Peter Argondizzo, president of Argo Translation. "Sometimes that's helping them translate or localize their products or media content while at other times we're just giving them - tips and advice on how to operate more effectively in other languages."
In order to help its current and future clients step up to these new demands, Argo has recently committed to expanding the reference materials and recommendations it makes through its website at argotrans.com. Specifically, these latest tips can be found at http://www.argotrans.com/resources/setup-foreign-language.php.
Resources already available in this section include multilingual terminology resources, books on conducting business across languages and customs, and guides for evaluating and choosing professional translators.
About ARGO Translation
Having successfully executed projects requiring simultaneous translation in 46 different languages, Argo Translation provides specialized and professional translation services for a multitude of domains ranging from legal and technical to marketing and financial and everything in between. Argo provides efficient, accurate translation and localization services focused on quality and clarity for a wide range of companies across North America.
###