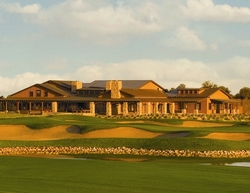 During the recent years of a slowing buyers' market, Talking Rock has continued to do quite well, while other developers have just vanished. But with the cycle looking to last for some time still, they decided to not only hold steady, but embark on an aggressive, non-traditional sales method to reach a larger pool of buyers and expedite sales
Newport Beach, Calif (PRWEB) April 1, 2009
Pursuing an unconventional course to drive sales in the sluggish real estate market, the developers of Talking Rock, a 3,400 acre master-planned private community in Prescott, Arizona, have engaged the auction marketing services of the LFC Group of Companies to conduct an online auction of select new homes and homesites. Nestled among the rolling hills of Arizona's high country, one elegantly-appointed ranch house and two ranch cottages, in addition to 31 premium lots are to be auctioned on the Freedom Realty Exchange website
"During the recent years of a slowing buyers' market, Talking Rock has continued to do quite well, while other developers have just vanished. But with the cycle looking to last for some time still, they decided to not only hold steady, but embark on an aggressive, non-traditional sales method to reach a larger pool of buyers and expedite sales," states Kelly Lovegrove Director of Operations for LFC Group of Companies. "By making the auction 'geographically-accessible"'via the Internet, buyers from anywhere can place their bid."
The largest of the three properties offered in this auction is an elegantly-appointed ±2,663 square feet ranch home featuring three bedrooms, three and a half baths, and over 1,200 square feet of covered porches adding to the outdoor experience and distinctive style of the Southwest.
Inspired by the picturesque high desert terrain, the first ranch cottage blends natural wood and finished stone to create a feeling of harmony with the surroundings. Three bedrooms and three and a half bathrooms reside among the 2,555 square feet of interior space. Outside, an impressive ±1,120 square feet of covered porch complete the home's outdoor appeal.
The second ranch cottage also blends nicely into the dramatic Arizona landscape. In this ±2,070-square-foot residence, two bedrooms and two and a half bathrooms offer cozy living quarters, while a ±650-square-foot covered porch lets residents enjoy the exhilarating vistas first hand.
Saving perhaps the best for last, Talking Rock is offering many of their most desirable homesites in this auction. Thirty-one of these premium locations throughout the community will be offered, including several lots in the Overlook section, and others that back up to the lush greens of the Talking Rock golf course.
And if the incredibly low minimum bids in this real estate auction were not enough to entice buyers, the seller will pay the $14,000 club membership required by all new homeowners*.
Talking Rock is located just 20 minutes outside of the quaint Arizona town of Prescott, one of Money Magazine's 2006 top five places to retire. At the heart of the community, the Ranch Compound provides a place for residents and guests to come together, whether to spend some quality time on the 18-hole Jay Morrish designed golf course; work up a sweat in the Barn fitness center; make a quick stop by Coops store for coffee and a newspaper; or to spend a few hours laughing over dinner and drinks at main Ranch House restaurant and bar. The developers of Talking Rock are also dedicated to living in concert with the natural beauty of this land. For this reason, they set aside more than 1,000 acres of land as natural preserve.
FRE.com auctions are conducted completely online. Bidding in a FRE.com auction begins with the submission of a bid form and bid deposit. Subsequent bids are placed over the Internet in the privacy and comfort of the buyer's office or home. Properties are available for viewing until the bid deadline of May 28, 2009. Important property documents and disclosures are available on FRE.com for download and review, ensuring that buyers are fully informed before they purchase. Broker participation is welcome.
*details on website
Freedom Realty Exchange®--a member of the LFC Group of Companies
For more than 30 years, the LFC Group of Companies has served numerous Fortune 500 companies, real estate developers, investors, financial institutions and government agencies by auction-marketing thousands of commercial, industrial, land and residential properties with an aggregate value well in excess of $5 billion. http://www.FRE.com
###