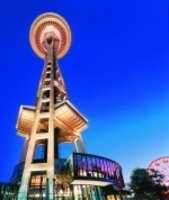 Seattle, Washington (PRWEB) April 1, 2009
The Space Needle, Seattle's iconic landmark and the most-visited attraction in the Pacific Northwest, joined Seattle CityPass' premier collection of six attraction admissions on April 1, 2009. Budget-conscious Seattle tourists can now hold tickets to all six of Seattle's finest experiences and views. The addition of the Space Needle offers a fresh, aerial view of the Emerald City. Its ticket offers a double-whammy, with two admissions - day and night - within a 24-hour period. The booklets, sized to fit in a pocket, are priced a whopping 48% less than the same ticket combination purchased separately. Adult Seattle CityPass booklets cost $54 (a $106.30 value); kids 4-12, $39 (a $68.38 value), and are valid for nine days. CityPass has been Seattle's real deal for the past 11 years, its signature booklets devoted to making every travel penny and minute count.
The 520-foot high Space Needle is a cloud-scraping landmark, with 360° of indoor and outdoor access to views of the city and surrounding Pacific Northwest vistas. Take full advantage of each angle with free telescopes and SkyQ, an interactive display to identify exactly what's in sight. In addition to two admissions, the Space Needle offers its CityPass guests a discount on a SpaceShots photo package. The Space Needle is open 365 days a year and until midnight in summer.
The Space Needle - accessible by monorail from downtown Seattle--is in fine company. The attraction collection is sized for an active weekend, or to be savored as the highlights of a longer holiday. Inside each Seattle CityPass booklet you'll also find tickets to the Pacific Science Center, Argosy Cruises Seattle Harbor Tour, Seattle Aquarium, Woodland Park Zoo, and an option ticket with a choice of visiting the Experience Music Project/Science Fiction Museum (practically in the shadow of the Space Needle) or the Museum of Flight. Each ticket indicates a CityPass speedy entrance technique to bypass most entrance lines.
A fast and green online e-ticket purchase is available in a few clicks at http://www.citypass.com/Seattle.html. Exchange for a booklet at the first participating Seattle attraction visited. Booklets may also be shipped directly to home or office addresses, or purchased in Seattle at any CityPass attraction. For more information, a peek inside a Seattle booklet, or to examine CityPass experiences in New York, Chicago, San Francisco, Atlanta, Houston, Boston, Philadelphia, Toronto, Hollywood or the thrilling theme parks of Southern California, go to http://www.citypass.com.
###