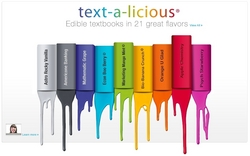 At first I thought the idea was a little quirky, a bit out there …why would you want to make rental textbooks edible?
Santa Clara, CA (PRWEB) April 1, 2009
Today, Chegg.com, the number one online textbook rental company, announces the launch of edible rental textbooks called Text-a-Licious ®. The edible textbooks are available in 21 new flavors including Marketing Mango Mint © and Biology Banana Crunch ©. After extensive studies conducted by former Stanford researcher Dhruv Sampat, Chegg.com has developed a patent pending formula that breaks down the complex compounds found in rental textbooks into an edible form. Now not only will Chegg.com help college students save money on textbooks but also on food expenditures.
Chegg.com is no stranger to innovation. The Santa Clara, California company first gained national notoriety for its textbook rental service in 2007. The service helps students save 65 to 85 percent or up to $650 per semester on textbooks. To date Chegg.com has saved students $34 million!
"Edible textbooks just seemed like a natural move for us as a company," said Osman Rashid, CEO of Chegg.com. "Students today are burdened with not only the high cost of textbooks but also the high cost of food. As a company we have always tried to address multiple problems in the most natural ways possible."
During the clinical trials students who were given samples of economic textbooks applied with the digestible formula immediately reacted with severe cases of diarrhea and stomach cramps. After further research, Chegg.com determined that the side effects were corollary to economic recession and not a result of the formula itself.
"At first I thought the idea was a little quirky, a bit out there …why would you want to make rental textbooks edible?" said Mark Sanders, a Freshman at New York University. "After I sampled the Carmel Mocha Chemistry © flavor I realized that Chegg was on to something revolutionary, it was like a light turned on in my head…the schnozberries tasted like schnozberries kind of moment."
About Chegg.com
Chegg.com is the number one textbook rental company. Chegg.com founded in 2005, launched its textbook rental service in July 2007 and has saved students at 6,000 campuses nationwide millions of dollars. With over 1 million books to choose from, Chegg.com makes renting and returning textbooks as easy as a click of a mouse. On top of added savings, Chegg.com will plant a tree for every book rented. To date Chegg.com has funded over 150 city blocks of trees. Follow Chegg.com on Twitter @Chegg and @cheggceo. For more on Chegg.com, log on to http://www.Chegg.com.
###