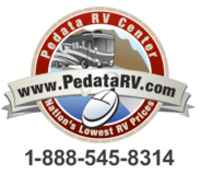 This survey just goes to show that the RV lifestyle is real, the customer base is there, they are loyal, they will return, and so will their kids
(Vocus) April 1, 2009
Even with credit tight, the economy down, and job losses still rising, Pedata RV is selling RVs. Clint Ethington, general manager at Pedata RV, says it's a good indicator that motorhome ownership is still and will be a desire among Americans.
"Even with the economy the way it is, it doesn't take away from the fact that RV ownership is still a desire among Americans. Customers who are buying from us right now are buying because they can, and because they are taking advantage of the lower prices driven down by the economy," says Ethington.
RVIA, the national trade association representing the RV industry, published a biannual survey of RV owners last week that showed:

45 percent are considering another RV purchase.
24 percent are looking to buy an RV in the next year.
8 percent are looking to buy an RV in the next two years.
55 percent intend to use their RVs more this spring/summer than last year.
4 percent said they'll use their RVs less this year.
75 percent said they planned to take more mini-vacations to escape stress and spend more quality time with family, enjoy nature, and other outdoor activities.
86 percent acknowledged that RVing is an affordable way to travel.
75 percent said they save at least 25 percent when they travel in an RV.
68 percent say they believe right now is a good time to buy an RV.
95 percent acknowledge that great deals are available right now.
"RV travel continues to appeal to people looking to save money and cut costs," says Richard Coon, president of RVIA. "By having their homes-on-wheels with them, RV owners receive a bigger bang for their buck than other types of vacations offer."
"This survey just goes to show that the RV lifestyle is real, the customer base is there, they are loyal, they will return, and so will their kids," says Ethington.
For More Information:
For more information on Pedata RV Center or current trends in the RV industry contact Clint Ethington, General Manager, at clint (at) pedatarvcenter (dot) com or by phone at: 1-888-545-8314 or 520-807-0900. Or visit Pedata RV Center online at http://www.pedatarvcenter.com.
###