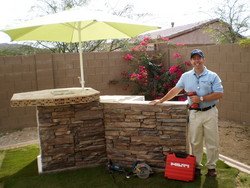 Outdoor kitchens sell for 30 to 40 times the price of materials. This is ridiculous
Peoria, AZ (PRWEB) April 2, 2009
The long awaited DVD video from BbqCoach.com is now available. This video features an on site consultation to design your own outdoor kitchen combined with step by step construction of a real outdoor kitchen project. This 2 hr video filmed in high definition gives the average homeowner all of the information needed to design and build their own outdoor kitchen from scratch, saving thousands of dollars.
For over 10 years BbqCoach.com has been helping families across America design and build their own outdoor kitchens and BBQ islands. This new video is being received as the greatest Outdoor Kitchen Design and construction video ever produced. This video is easy to follow and teaches homeowners everything they need to know to build a professional quality outdoor kitchen that they can enjoy for the rest of their lives. It is crucial to have this information before planning an outdoor kitchen to understand where to run utility lines, proper spacing between appliances, how to design in zones and much more.
Outdoor Kitchens constructed of steel studs and cement board require many specialized construction techniques not known by the average person or contractor. This is the first video ever to show how to build a professional island. It includes step by step instructions including everything from pouring a concrete pad, running utility lines to spraying stucco and installing stone veneer. The video gives many tips to over see your contractors work for homeowners who sub out the work.
Outdoor kitchens have always been sold as a luxury item for ridiculously high prices by retailers and contractors. "Outdoor kitchens sell for 30 to 40 times the price of materials. This is ridiculous," says Willie The Bbq Coach, founder of BbqCoach.com. From the beginning, it has been the mission of BbqCoach.com to assist the average homeowner design and build the outdoor kitchen of their dreams at a reasonable price. This new video makes it possible for any homeowner to create the outdoor kitchen of their dreams.
###