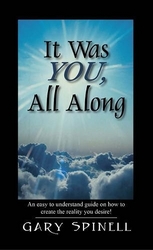 'It Was YOU, All Along' can help you bring home what you really need to change your life and improve your situation.
Dallas, Texas (PRWEB) April 2, 2009
Gary Spinell, Texas-based speaker and author of "It Was YOU, All Along," featured in several local DFW newspapers and radio stations, has made available job search tips as well as ways to maintain a positive mindset to achieve success in turbulent economic times.
"As the economy continues to downturn, people across the state are looking for security in their current jobs or are seeking employment," said Spinell. "In periods of uncertainty, peace of mind is often lost, making it difficult to change your life and improve your situation, both professionally and personally. These tips provide job search basics and examine the ways for maintaining a positive mindset to achieve success."
Gary Spinell's Tips to Achieve Success Professionally and Personally:

When preparing a resume, the first half of the page is the most important. With no more than 15-20 seconds to make an impression on the reader, this section must be eye catching.
A winning resume will inform the employer how you can help accomplish the company's strategic goals and have an opportunity for career advancement which becomes the best part of your 20-30 second "elevator" speech.
Performing concentrated research on companies through the internet and social networking sites such as Facebook and LinkedIn to compare and share ideas will assist you in pinpointing company objectives.
Networking is a key job search tool. Expand your base of potential contacts by seizing every opportunity to get to know people.
Always remember to thank everyone you meet and ask what you can do for them.
Keep a positive focus and understand how your negative beliefs or perceptions will interfere with any potential for progress. Also, read everything available to you.
Personally affected by job loss over the course of his career, Spinell has learned from these challenges, not only surviving, but thriving as he utilized the value of networking as well as implemented key job hunting tools which enabled him to receive promotions, pay increases and allowed him to become an integral part of senior management securing his current role as VP Finance of Coppell-based Mannatech with increased responsibilities, including treasurer, head of budgeting and planning, risk management, human resources and investor relations.
Spinell's extensive job search knowledge has led to client referrals from an outplacement firm seeking additional advice and has encouraged Spinell to contribute three job placement related articles for the national trade magazine of the Association of Financial Professionals as well as publish his first book, "It Was YOU, All Along," offering readers the guidelines of attracting success in any endeavor.
About Gary Spinell
Gary Spinell published his first book "It Was YOU, All Along" in May 2008. He spent more than 25 years researching and examining why some people consistently achieve success and why it eludes most people most of the time. In addition to being a writer and new speaker, he is currently vice president of finance and corporate communications at Mannatech, based in Coppell, Texas. Previously, he was treasurer for Expedia and Hotels.com. His experience also includes vice president at Blockbuster in Dallas. Gary was born and raised in Rochester, NY, and received his MBA from Babson College in Massachusetts. He has lived in the Dallas area for more than 30 years. He is currently married and has two sons who both live in Plano.
About "It Was YOU, All Along"
The idea we create our reality is not new, but most of us have trouble understanding how to apply it in our daily lives. "It Was YOU, All Along" helps you understand how to apply this knowledge in every area of your life. Learn why some people continually achieve success when others can't. Discover the key myth and misconception causing most people to lack success. Learn why hard working people often miss the key ingredients required to create their ideal reality. Discover how the energy generated by your actions, thoughts and beliefs creates your entire reality.
"'It Was YOU, All Along' can help you bring home what you really need to change your life and improve your situation." - Gabriela Sholander, IP Book Review
"Gary has a wonderful way of writing and a different approach to the 'Creating your Life' topic that I hadn't yet seen done." - Danette Steele, Quantum Wellness--ahhz.net
"I have to say that the author has done his homework and gives us extremely valuable information on how to re-shape our reality as we would like to see it. I liked this book. " - Tina Avon, Front Street Review.com
"Of all the industry's personal growth writing to date, 'It Was YOU, All Along' has to go down as an essential leadership read for people like us who network with a lot of others." - D. Havener, Direct Selling Industry Expert
Learn how to use the Universal laws to create the reality you desire. Learn how and why nothing happens to you! Discover the power to find the right relationship, success in your career, and abundance. For more information, please view the "It Was YOU, All Along" video.
###