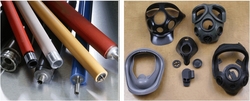 Hamburg, NJ (PRWEB) April 2, 2009
Ames Corporation http://www.amescorporation.com, a leading manufacturer of high-quality Elastomeric Molded Components, dispensed gaskets and protective Coatings, will celebrate the sixtieth anniversary of its high precision Molding operations in May of 2009. Since 1949, Ames has offered its precision custom-molded products to a variety of markets including: office automation, automotive, government/military, and energy/power.
To best serve these markets, Ames' Molding capabilities include: compression, transfer, injection, liquid injection Molding (LIM), insert Molding, and mold-in-place (MIP). Ames combines these Molding capabilities with material development and finishing technologies that meet demanding applications and product tolerances. In utilizing a wide range of Molded Components of Elastomeric materials (including silicone, hydrin, EPDM, SBR, urethane, polychloroprene, nitrile, natural, and fluoroelastomer), Ames is able to satisfy a wide variety of customers' performance requirements.
A 1993 winner of the prestigious Malcolm Baldrige National Quality Award, Ames has reinvented itself as "The Polymer Solutions Company." Ames' extensive expertise in Molding and manufacturing Molded Components has provided a foundation which has allowed the company to develop other Elastomeric application processes including protective Coatings and dispensed gasketing. The company's deep history of technology and quality are at the core of how the company does business and are an integral part of its processes, which incorporate Lean Manufacturing and Six Sigma practices. Furthermore, Ames' experience in providing cost-effective design solutions can make the difference between simply making a component that performs adequately and creating one that excels.
About Ames
For nearly 60 years, Ames has been a leading supplier to international, high-tech customers who require Elastomeric Coatings, Moldings, dispensed gaskets, insert Molded Components, and other Elastomeric products that meet high-quality standards. As one of the very few companies to win the Malcolm Baldrige National Quality Award for business excellence, Ames is ISO 9000-2000 registered, practices Six Sigma and Lean Manufacturing, and is well known for its exceptional attention to process and product quality. For additional information about Ames or the solutions they offer, please visit http://www.amescorporation.com, or call (973) 827-9101.
# # #