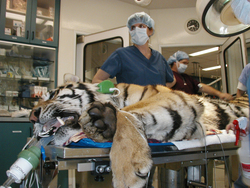 This was an extraordinary opportunity to explain the crippling effects of declawing to millions of viewers who otherwise wouldn't know how damaging the procedure is to all species of cats.
Santa Monica, CA (PRWEB) April 3, 2009
The Paw Project founder, veterinarian Jennifer Conrad, was featured on ABC's "Extreme Makeover: Home Edition" on Sunday, March 29, in a special two hour episode highlighting the Almquist Family, owners of Forever Wild Exotic Animal Shelter in Phelan, California. Conrad is a Santa Monica-based veterinarian specializing in care of exotic species animals, and owner of Veterinarian to the (Real) Stars, an organization providing support for animal actors in the entertainment industry. The "Extreme Makeover: Home Edition" episode captured her attending to Forever Wild resident Diablo, a 500 pound Siberian tiger, whose declawed paws had left the tiger crippled and in excruciating pain.
"I was touched by the compassion of Ty, Paige and the rest of the 'Extreme Makeover: Home Edition' team. Not only did ABC provide incredible support for Joel and Chemaine Almquist and Forever Wild, they have provided a new lease on life for these beautiful animals," says Conrad, who founded The Paw Project in 2000 to promote animal welfare and increase public awareness about the crippling effects of feline declawing. Since then, Conrad has been working tirelessly to rehabilitate more than 70 big cats that have been declawed, and has successfully introduce legislation that banned the practice of declaw surgeries for big cats throughout California. "This was an extraordinary opportunity to explain the crippling effects of declawing to millions of viewers who otherwise wouldn't know how damaging the procedure is to all species of cats."
For nearly a decade, Conrad has provided medical care and surgical rehabilitation for nearly a dozen tigers, mountain lions and other exotic species cats residing at Forever Wild, many of whom had been declawed at a young age. Through generous contributions made to The Paw Project, Conrad has repaired paws of most of the tigers and other exotic cats housed at the Almquist family's Forever Wild sanctuary, which was in dire need of repair in order for them to continue to provide shelter for abused and neglected exotic species animals.
"Declawing is a misnomer," Conrad explains about the surgical procedure, also called onychectomy, in which the animal's toes are amputated at the last joint often resulting in permanent lameness, arthritis, and other long-term complications. "Most people are unaware that it is actually an amputation of the last bone in each digit of a cat's paw. While the pain is obvious in large cats because of their size, small cats will go to great lengths to conceal their discomfort." Although the practice of declawing is still common in the United States, it illegal and considered inhumane in many countries throughout Europe and Asia, and in Australia.
"Diablo is recovering nicely," says Conrad. But it is not over for the big cat, whose paws were so severely damaged that he will require additional surgeries to complete the repair. Through The Paw Project, Conrad will continue to seek donations to complete Diablo's surgical rehabilitation. "I hope that viewers will have a better understanding about humane treatment of all animals as a result."
An expert in wild animals of all species, Conrad is regularly called upon to speak about her work, rescue and rehabilitate wildlife and oversee animal actors on movie sets. She is a frequent source for major market newspaper articles and radio talk show guest, and she has appeared in numerous television specials including KCET's Life and Times and Animal Planet's Untamed and Uncut.
The special two-hour episode featuring the Almquist family, Forever Wild sanctuary, Jennifer Conrad and The Paw Project aired on Sunday, March 29 on ABC. The episode can be viewed on line at ABC.com.
About The Paw Project:
Founded by Veterinarian, Jennifer Conrad, DVM, in 2000, the Paw Project, a 501(3)(c) nonprofit organization, advocates animal welfare, promotes public awareness about the painful and crippling effects of feline declawing, rehabilitates declawed cats through paw repair surgery, and supports measures to end the unnecessary practice of onychectomy (declaw surgery).
The Paw Project initiated efforts which led to the ban on declawing in West Hollywood, CA, the first law of its kind in North America. The Paw Project was also the sponsor of AB 1857, introduced by Assemblyman Paul Koretz (D-42nd District). In January 2005, the California Anti-Declaw Act, signed into law by California Governor Arnold Schwarzenegger, became the first state law in the US banning the declawing of wild and exotic cats. Scientific research published by Paw Project veterinarians provided the data behind the 2006 USDA ruling forbidding declawing of animals by USDA-licensed owners of exotic and wild animals. The USDA ban is enforced by the federal Animal Welfare Act.
Since April 2000 veterinarians working with the Paw Project have performed reparative surgery on lions, tigers, cougars, leopards, and jaguars that had been victims of declaw surgery. Enjoying relief for the first time after years of suffering, declawed cats that could hobble only a few agonizing steps prior to reparative surgery are able to leap, run, and play much more as nature intended.
There are more than 1000 big cat sanctuaries in 41 states caring for over 10,000 declawed cats that live each day in constant pain. The Paw Project's goal is to help every one of these cats by providing support to animal sanctuaries and veterinarians.
For more information, please visit http://www.pawproject.org .
About Forever Wild:
Founded by Joel and Chemaine Almquist, Forever Wild is dedicated to the rescue and rehabilitation efforts of exotic animals in need and endeavors to educate people of all generations toward better understanding about preservation of beautiful exotic animals their diminishing habitats.
Forever Wild provides a healthy, happy home for captive-bred animals rejected by zoos and other facilities. The facility in Phelan, California, was built by the owners, volunteer and donors in order to:

Care for many more animals that will otherwise be euthanized;
Host and educate the public in a beautiful facility;
Perform outreach services to schools and children.
For more information, please visit http://www.4everwild.org .
About Extreme Makeover: Home Edition:
The Emmy award winning reality program "Extreme Makeover: Home Edition," now in its 6th season, is produced by Endemol USA, a division of Endemol Holding. It's executive-produced by Anthony Dominici. David Goldberg is Chairman, Endemol North America. The show airs Sundays from 8:00-9:00 p.m., ET on ABC.
For more information about Extreme Makeover: Home Edition, please visit http://abc.go.com/primetime/xtremehome/
###