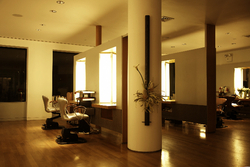 This is our way of helping New Yorkers de-tax by literally providing relief during taxing times. After all, nothing is more mood altering than a good hair day
New York, NY (PRWEB) April 3, 2009
With fans like Carla Gugino, Kelly Rutherford and Sarah Jessica Parker, Salon Eiji, one of Manhattan's premiere salons, represented by Madeline Johnson Marketing and Public Relations http://www.mjmpr.com and located at 601 Madison Avenue, announces a beautiful stimulus package to help stressed out New Yorkers cope with the recession on tax day. Masters of New York's longest-lasting haircut, Salon Eiji has not increased their prices in over 5 years. Now the salon is giving back with great tax "cuts" and other beauty stimulus packages.
After all, this is one of the worst job markets since the Great Depression. The unemployment rate in New York City has soared to 7.4% according to statistics. In February, the nation's unemployment rate rose to 8.1 percent, its highest in 25 years, with some 12.5 million Americans out of work.
The salon explains that they have built their clientele on supreme talent and loyalty and hope to now help their clients maintain a good appearance when they're interviewing for a new job. The salon is also offering other ways to save and get the biggest bang for their beauty buck.
Pink Slip Pretty
The first 50 new salon clients to schedule an appointment will receive a complimentary haircut when bringing their recent (2009) termination notice from their former employer to help wash their tax hike or unemployment blues right out of their hair. According to Salon Eiji Managing Director Erin Sartain, "This is our way of helping New Yorkers de-tax by literally providing relief during taxing times. After all, nothing is more mood altering than a good hair day".
Color Amnesty Day
The expert color staff at Salon Eiji promises not to judge if their new or existing clients have attempted the daunting task of highlighting or coloring their own hair at home. A special color correction savings will begin on tax day, April 15th. The savings begins with a free consultation with celebrity colorists at the salon. With clients such as Catherine Zeta-Jones, Tea Leoni, Katie Holmes, and Megan Fox (just to name a few), why not have Salon Eiji guide you to shining like a star.
Ongoing:
Training Nights
Wednesday evenings from 6:00 pm on are traditional training nights at Salon Eiji. Many savvy beauty experts know that those in training are watched over with a careful eye by the salon's top talent, including Eiji Yamane himself. Hair cuts and color are a fraction of the cost. Cuts start at $40.00 and single process color and highlights - range from $30 - $60. Now extended to meet the growing demand, New Yorker's can call to schedule a private "training" appointment. Stylists are available most nights after 6 pm.
Blow out "Club" Specials
Looking great has been proven to boost moods and help land new jobs. With this in mind, Salon Eiji is offering the sixth salon blow out free to those that have scheduled five.
Bangtox™
Want the biggest "bang" for your buck? Salon Eiji offers free bang trims in between haircuts. Salon Eiji also introduces Bangtox™ instead of Botox®. Bangtox takes years off anyone's look for a more youthful, sexy, and affordable style. The talented stylists at Eiji Salon in Manhattan frame the face to perfection with personalized bang style. Salon owner, Eiji Yamane precisely cuts bangs to add movement which gives a sexy, sophisticated look. Bangs are perfect for covering expression lines without the cost of expensive injections.
Salon Eiji's relaxing scalp massages at the shampoo bowl, spa-like vibe and coffee and herbal tea offerings also help those relax about their taxes and their losses.
Eiji creates masterful magic on Madison Avenue in a serene, spacious salon full of amazing talent and cutting-edge hair treatments. Eiji Yamane, the salon's Japanese-born owner, is famous for his 'Dry Cut' technique, and his services are sought after by many celebrities and New York influentials. Eiji Salon 601 Madison Avenue, 5th Floor, New York, NY 10022. http://www.eiji-newyork.com.
###