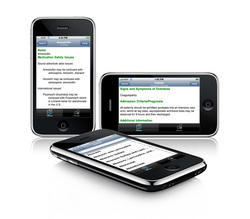 Hudson, OH (PRWEB) April 2, 2009
Lexi-Comp, Inc., a provider of clinical reference information for healthcare professionals, has recently released enhancements to its applications for the iPhone and iPod touch. Lexi-Comp has realized software sales in over 40 countries for the popular devices since the initial launch in December, 2008, and they expect continued growth with the release of additional databases and enhancements to the application. Demonstrations will be available in Lexi-Comp's booth # 1214 at the 2009 APhA Annual Meeting and Exhibition, April 3-6, 2009, in San Antonio, Texas.
The most anticipated enhancement among subscribers is the wireless updating functionality, giving users the ability to download updates to the clinical databases. This key feature ensures clinicians are always accessing the most current information at the point-of-care. Lexi-Comp has also expanded the content offerings to now include three new databases, Lexi-Pregnancy & Lactation™, Lexi-Drug Allergies™, and a medical abbreviations reference. Other enhancements planned for 2009 include the addition of calculations, drug identification, and I.V. compatibility tools.
Lexi-Comp ON-HAND for the iPhone features Lexi-Drugs®, the most comprehensive pharmacology database available on this platform. Users can create and store personalized user notes within each Lexi-Drugs monograph and can quickly determine drug/herb/food interactions using Lexi-Interact™. Seamless linking to other purchased Lexi-Comp databases makes finding information fast and efficient. Clinicians can also link to FDA warnings, PubMed, and additional resources via the Internet. Dental professionals are able to utilize this latest mobile technology to access the same photo-rich resources presented in Lexi-Comp's highly regarded printed dental manuals and Internet-based Lexi-Comp® ONLINE™ for Dentistry. Trusted medical resources such as Harrison's Practice, The 5-Minute Clinical Consultant, and Stedman's Medical Dictionary for the Health Professions and Nursing are also available.
Individual databases and packages currently available for the iPhone can be purchased by visiting http://www.lexi.com/individuals/iphone. Lexi-Comp also offers compatibility with Palm™ and Pocket PC devices, as well as smartphones, including BlackBerry® and Windows Mobile®. Top-rated technical support services are available by calling 1-866-397-3433 or by visiting their [http://www.lexi.com/individuals/support/ online support portal.
About Lexi-Comp
Lexi-Comp, Inc. provides clinical information solutions to the healthcare industry, publishing point-of-care content utilized in both in-patient and out-patient settings. These advanced resources help improve patient outcomes, medication safety, and workflow efficiency. Pharmacotherapy knowledge areas include drug information for adult, pediatric, and geriatric populations; medication interactions; laboratory tests and diagnostic procedures; pharmacogenomics; poisoning and toxicology; dentistry; infectious diseases; and patient education. Over 500,000 clinicians worldwide access Lexi-Comp's content via the Internet, mobile devices, and through integration with health information systems. An extensive library of print titles is also available.
To learn more about Lexi-Comp's clinical information solutions, call 800.837.5394, 330.650.6506, or visit http://www.lexi.com.
# # #