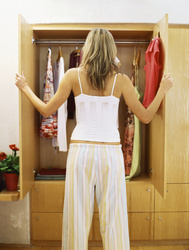 This is not a sacrifice, there are some really great clothes made of cotton
Edison, N.J. (PRWEB) April 2, 2009
If you'd never consider wearing silk or even solid colors, like gray, for fear of noticeable underarm sweat marks, you pick patterns over solids to hide the issue, or typically pile on layers to mask the waterworks going on underneath, then perspiration is controlling your fashion choices.
This isn't uncommon for people with problem perspiration, say style and dermatology experts, and in a national survey* conducted for Certain Dri (http://www.certaindri.com), the number-one antiperspirant brand recommended by doctors for treating excessive perspiration, 45 percent of U.S. adults indicate they suffer from problematic perspiration and of this group, 18 percent - which translates to almost 19 million people - indicate that their perspiration has ruined some of their clothes. What's more, problematic perspiration is a source of embarrassment for 16 percent of this group - more than 16 million - and 14 percent admit to being concerned about picking out clothing.
"It doesn't matter what season it is, people who suffer from excessive perspiration feel very limited with their choice of clothing and footwear," says celebrity stylist Lauri Eisenberg. "Just by knowing what fabrics to wear, the best styles or what antiperspirant to apply, that terrible feeling of being forced to wear unflattering shoes or to hide behind patterns, under layers or in dark colors that help conceal sweat stains, will be a memory of the past."
Below Eisenberg, who has styled A-list celebrities including Alison Krauss, Jojo, Kimora Lee Simmons, Glenn Close, Andi McDowell, Jon Bon Jovi and Matthew McConaughey, offers a few of her no-sweat fashion tips that are sure to leave you feeling cool and confident in the latest fashions:

Choose Your Fabrics Wisely: Wear natural fabrics such as cotton, which absorbs and releases perspiration quickly allowing the skin to breathe. "This is not a sacrifice, there are some really great clothes made of cotton," explains Eisenberg. "Not to mention these natural fabrics feel terrific against your skin and allow your pores to 'breathe.' Until you get your perspiration under control, I would suggest avoiding silks because silk is very unforgiving to noticeable sweat marks; it looks just terrible. Believe me, I've seen a few sweaty messes wrapped up in some of the most beautiful silk gowns!"
Keep It Dry: If you're worried about noticeable sweat don't worry! Curb the water works at night and apply antiperspirant at bedtime. Look for Certain Dri Anti-Perspirant Roll-On with 12 percent aluminum chloride, the number-one doctor-recommended brand for over 30 years. "Certain Dri, also available in a new solid application, provides 72-hours of protection from noticeable sweat, allowing you to wear just about any style or color and look fabulous while wearing it! Many of my clients tell me that since they started using Certain Dri, they really don't have to worry about underarm sweat marks, allowing them to bring silk and light colors back into their wardrobes."
Buy clothing that fits: Try wearing shirts that are fitted, but not too tight. "It doesn't have to be skin tight to look good," explains Eisenberg. Tight-fitting clothes cause sweat to be trapped in a film on the skin, which can result in body odor or noticeable perspiration stains. Eisenberg adds, "Clothing that fits properly is one of most important fashion tips to observe because well-fitting clothing can also hide figure flaws, as well as accentuate your assets."
Treat Your Feet: Another survey** conducted for Certain Dri found that thirty percent of U.S. adults** - which translates to nearly 70 million people nationwide - admit to suffering from problematic foot sweat with forty-three percent of this group indicating that perspiration of the feet is dependent upon the type of shoes worn . "If you suffer from sweaty feet look for Certain Dri FEET Moisture Control Pads, which contain 12 percent aluminum chloride, the ingredient recommended by podiatrists to control excessive foot moisture," advises Eisenberg. And if it's foot odor you're worried about, look for Certain Dri FEET Microsponge Powder. It's specifically developed for people suffering from excessive foot odor.
Accessorize Your Outfit: "If you already have noticeable sweat stains or are still worried you will get them then try having a cardigan, wrap or light jacket handy to cover the stains, nobody will ever suspect you're covering up sweat marks," suggests Eisenberg.
Visit http://www.nosweatfashion.com for additional information about the new products or for more no-sweat fashion tips from Lauri Eisenberg. Plus, Certain Dri's on Facebook….become one of our fans!
Survey Methodology:
*Harris Interactive® fielded the study from February 28- March 2, 2006, via its QuickQuerySM online omnibus service, interviewing a nationwide sample of 2,099 U.S adults
**Harris Interactive® fielded the study on behalf of Certain Dri Feet Products from February 6-8, 2008 via its QuickQuerySM online omnibus service, interviewing a nationwide sample of 2,015 U.S. adults
###