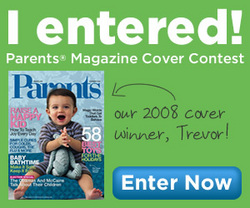 There are so many gorgeous kids out there
New York, NY (PRWEB) April 2, 2009
The editors of Parents want moms and dads to submit their children's cute baby pictures to the magazine's annual cover contest. Judges will select two of the cutest children to appear on the November 2009 issue's dual cover. The winners will be chosen from two categories: one for kids three months to less than two years old and one for kids two to six years old.
Photo entries can be uploaded to the Parents Magazine Cover Contest. Once photos are uploaded, parents will be able to use a template to create their own Parents magazine cover featuring their own cute child.
Any mom or dad who uploads up to six cute kid pictures to the online photo contest at Parents.com will also be entered into a cash sweepstakes that will award a $10,000 cash prize to one lucky winner.
Parents magazine judges will review all of the photo entries and choose 40 semifinalists, 20 from each age category, based on the criteria set forth in the Official Rules. From July 28 to September 3, visitors to the Parents Magazine Cover Contest website are invited to cast their vote for their favorite semifinalists. Voter recommendations will not be used as criteria in the judging of entries in any round.
Ten finalists, five from the two age categories, will be selected to fly to New York City for a professional photo shoot. Two winners from the photo shoot, one from each age category, will be chosen for the November 2009 cover. The winner of the $10,000 sweepstakes will be notified by mail on July 8.
"There are so many gorgeous kids out there," says Judy Goldberg, Senior Editor of Parents. "Judging is going to be a huge but fun challenge, especially this year with the two age categories."
To enter the Parents magazine cover kid photo contest, upload up to six cute baby pictures before June 24, 2009. Enter either at Parents Magazine Cover Contest (3 mos - 2 yrs) or at Parents Magazine Cover Contest (2 - 6 yrs).
Last year's winner, Trevor, appeared on the cover of Parents magazine's November 2008 issue. He was selected from more than 80,000 entries. Trevor's entry photos can be seen at Share Photos: Photo Contest: So Cute!
About Parents magazine
Parents magazine has been America's number one family magazine for more than 80 years. Since its inception in 1926, it has been a trusted source by every generation of parents. Currently, the magazine is a powerful community of 15.6 million readers devoted to supporting the efforts of parents, educators and other citizens who strive to make the world a better place for our children.
About Parents.com
Parents.com is the premier parenthood site on the Web, and the interactive companion to Parents magazine, Family Circle magazine, and American Baby magazine. With its stable of easy-to-use, helpful tools like the baby name finder, the growing belly tool, the activity finder, and the Birthday party planning tool, Parents.com serves moms and dads, providing everything every parent needs to raise happy, healthy families from crib to college -- how, when and where they need it.
###