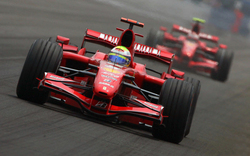 New York (PRWEB) April 3, 2009
Remote Lands, the world's foremost luxury travel designer focused exclusively on Asia, is offering clients the unique opportunity of attending Singapore and Japan's Formula One Grand Prix Races, taking place over a one-week period this fall. The Singapore race, the baby of the F1 family at just one year old, is the only F1 race both at night and through city streets and will take place September 27-29; Japan's race will be held October 2-4 on the legendary Suzuka International Racing Course, one of the oldest and most famous racetracks in Japan. Racing enthusiasts can avail themselves of Remote Lands' Formula One Grand Prix Experience, a nine-night journey from September 25-October 4, which includes prime viewing locations for the races, a private tour of the pits to meet the drivers and view the F1 cars up close, deluxe accommodation and transportation, and more. This unique Experience begins at $20,000 per person, and can be customized based on additional services.
The Formula One Grand Prix Experience begins on September 25 in Singapore. Guests will stay for four nights at the Fullerton Hotel in a room overlooking the racecourse. The race begins Friday, September 25, with preliminaries on the first two nights and the final on Sunday, September 27. Attendees will be personally escorted to the race pits to meet with the drivers and to see their F1 cars, and then will be taken to their prime seats to enjoy the spectacle on the streets. Between races, Remote Lands will arrange access to extraordinary insider experiences such as a private F1 party on a luxurious yacht moored in the Singapore River; reservations at Altivo, a "sky dining" restaurant where patrons will have their gourmet dinner served to them in a cable car drifting above Singapore's distinctive skyline; a private appointment with a famed race suit designer who will create a special garment for you sewn from fire retardant materials made of Arimand and Kevlar blend; and an expert-guided architecture tour of the city.
On September 29, clients will fly to Tokyo and travel south to the beautiful Mie coast, which is easily accessible to the F1 course in Suzuka. Guests will stay in luxurious accommodations overlooking the beach, and visit the remote Ise Shrine, the most important Shinto site in the world that few foreigners venture to. They will take a day trip to the Toyota Automobile Museum in neighboring Aichi prefecture to enjoy a private curator-guided tour of vintage Rolls Royces, Toyotas, Bentleys and Benzes that exhibit over a century of automotive history. Close by in eponymous Toyota City is the car manufacturer's central research and development laboratories where participants can meet with top designers and chat with them about current and future trends. Clients of Remote Lands will also have the opportunity to suit up and get behind the wheel of a near exact replica racing car. Under the tutelage of a former F1 driver or coach, guests will learn how to negotiate the curves of a real race track in the vicinity. Participants will also enjoy a visit to a car customization shop where a car's performance and appearance can be enhanced by a team of experts. Remote Lands can arrange for customized fixtures to be made and shipped home for fitting on their clients' cars.
Preliminary races begin on October 2 and culminate two days later with the final race on October 4 on the iconic Suzuka circuit, one of the few figure-eight courses in the world. As the storied penultimate race of the season, many championships have been decided here on the course's many dramatic curves and straight-aways. Attendees will have the option of watching the race from the best seats in the stands or in a luxurious private box complete with exquisite Japanese cuisine.
For racing enthusiasts that cannot attend this event, there are races elsewhere in Asia for which Remote Lands can create extraordinary Experiences. These include, and the Petronas Malaysian Grand Prix race in Kuala Lumpur and the Chinese Grand Prix in Shanghai, which are tentatively scheduled on back-to-back weekends in April 2010.
For inquiries or to make reservations please call (646) 415-8092 or visit http://www.remotelands.com
About Remote Lands
Remote Lands, Inc., the world's foremost luxury bespoke travel provider focused exclusively on Asia, is based in midtown Manhattan with a logistics office in Bangkok. The company specializes in extraordinary experiences in magical, far-flung destinations and insider access to exceptional people and exclusive events. The venture capital-backed company was founded by seasoned business and travel entrepreneurs Catherine Evans Heald and Jay Tindall, both of whom have lived, worked and traveled all over the world. Remote Lands actively promotes socially responsible tourism that strives to bring an understanding of other cultures and helps to preserve their way of life. Ten percent of the company's profits go directly to local charities in developing countries. For more information, please visit http://www.remotelands.com.
# # #