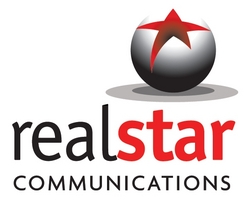 The goal of Real Star Communications is to provide the ultimate experience, in entertainment, communications and all broadband services
Phoenix, AZ (PRWEB) April 4, 2009
Real Star Communications Corp., a subsidiary of SSM Media Ventures, Inc. assumed control over all the assets formerly owned by Eagle West Communications, Inc. Eagle West was the largest rural cable provider in Arizona. Effective immediately, all former Eagle West customers will receive notice of the change in ownership via their cable bills. Real Star will move as quickly as possible to restore service to area's left dark by the difficulties of the former Eagle West operation. Existing customers will be given a special introductory bonus offer, as thanks for their patience through this change in ownership. Real Star Communications is excited to be a fresh part of Arizona's rich and diverse culture and projects a rapid transition moving forward. Real Star's goal is to be an industry leader in providing Cable, Broadband Internet, and Telephone service throughout Arizona and nationally. The Customer is the "STAR". That's why Real Star will offer more choices, additional channels, and new and improved technology at a reasonable price.
Real Star Communications is also proud to appoint respected cable veteran, Kelvin Smith as its new incoming CEO. As a former executive of Cable One, esteemed GM / architect of the Maricopa Broadband system and CEO of C3 Broadband, his extensive experience in building and acquiring cable systems all over the country will be a valuable asset to Real Star Communications becoming an industry leader in the Arizona and national marketplace.
"The goal of Real Star Communications is to provide the ultimate experience, in entertainment, communications and all broadband services," said Kelvin Smith, CEO. "We will always value our customers needs and their requests. We plan to accomplish that by expanding our product offering while improving the level of service provided to all of our customers."
Real Star Communications, Chief Communications Officer, Varick Baiyina ads "Our goal is to be The People's Real Choice for cable, internet and telephone service; Providing a revolutionary approach to customer service and offering the best technology available, at the lowest possible rates." In addition, Chairman and President Atonn Muhammad added "Real Star will be innovators. We have analyzed strategically how to improve the reach and capability of cable, phone and broadband technology to rural areas across Arizona and plan to duplicate this model nationwide. Real Star will begin an aggressive marketing campaign to retain existing customers and earn the respect and trust of new customers seeking a bold "REAL" change as a premium provider of broadband services.
Real Star Customer Bill of Rights
-Putting the needs of the customer first.
-Providing superior service at a fair price
-Providing more choices and offering the latest technology
For more information go to http://www.realstartv.com or Call 1-888-840-8999 for details.
Systems / Areas Effected
-Mesa, Arizona
-Black Canyon City
-Casa Grande
-Cave Creek
-Christopher Creek
-Dudleyville/ Hayden
-Eagar/ Springerville
-Eloy, Toltec, Arizona City, AZ
-Heber/ Overgaard
-Kearny
-Kohl's Ranch/ Thompson Draw
-Mammoth
-Oracle
-San Manuel
-St. Johns
-Superior
-Winkelman
-Yarnell
-Tonopah- Nevada
###